Your wedding day is a momentous occasion, and every bride wants to look and feel her absolute best. One crucial aspect of your bridal appearance is your makeup. Choosing the perfect bridal makeup look can be a daunting task with so many options available. we'll guide you through the process of selecting the ideal makeup style that complements your personal style, the wedding theme, and your unique features. With the right makeup, you'll glow with confidence and radiate beauty on your special day.
Natural Bridal Makeup For Blondes
Creating a natural bridal makeup look for blondes on their wedding day is all about enhancing your natural beauty and ensuring you look like the best version of yourself. The goal is to achieve a timeless and elegant look that will stand the test of time in your wedding photos. Start by prepping your skin with a good skincare routine. Cleanse, exfoliate, and moisturize your skin to create a smooth canvas for makeup. Apply a makeup primer to ensure your makeup lasts all day. This will also help to smooth out your skin's texture. Choose a foundation that matches your skin tone perfectly.
Lightly set your makeup with a translucent setting powder to prevent shine and keep your makeup in place. Apply a soft bronzer to the hollows of your cheeks, along your jawline, and on your temples to add warmth and dimension. Add a natural, rosy blush to the apples of your cheeks. Fill in your eyebrows using a brow pencil or powder that matches your hair color. Make sure your brows look well-groomed but not overly defined. Stick to neutral eyeshadow shades like soft browns, taupes, and champagne colors. Apply a light shade on your lids, a slightly darker shade in the crease for definition, and a touch of shimmer on the inner corners to make your eyes pop. Line your upper lash line with a brown or black eyeliner for a subtle, defined look. Skip a harsh cat-eye and opt for a soft, smudged line.
Ideas For Brides With Red Hair
Red hair is often described as fiery, passionate, and unique, making redheaded brides stand out on their wedding day. If you're a bride with red hair, you have a stunning canvas to work with, and there are countless ways to enhance your natural beauty and create a wedding look that's both timeless and unforgettable. we'll explore a range of ideas and tips to help you make the most of your red hair on your special day.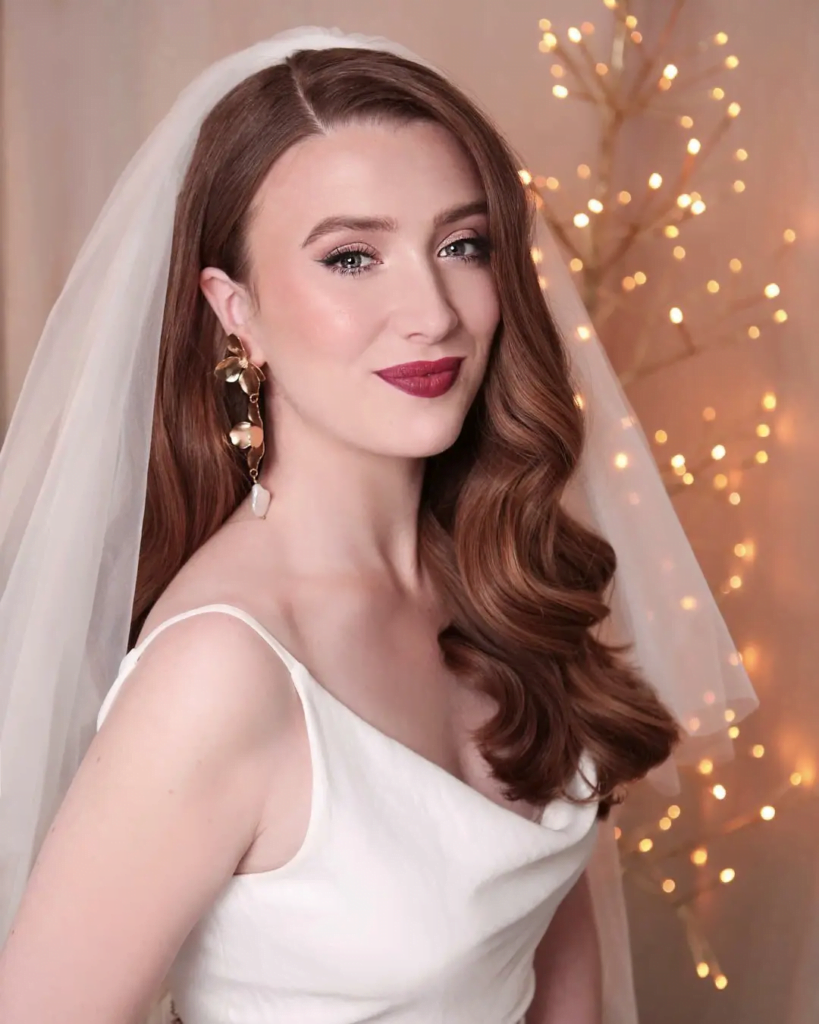 Your red hair is a striking feature that can be beautifully accentuated on your wedding day. Embrace your uniqueness, follow these tips, and let your red hair shine as you walk down the aisle. With the right dress, hairstyle, makeup, and overall theme, you'll look stunning and feel confident as you celebrate your love. Your wedding day will truly be a reflection of your fiery, passionate spirit and the love you and your partner share.
Makeup For Dark Haired Brides
Your wedding day is a momentous occasion, and as a dark-haired bride, you want to look and feel your absolute best. Your choice of bridal makeup can greatly enhance your natural beauty and help you radiate confidence on your special day. we'll walk you through a step-by-step guide to achieve a stunning bridal makeup look that complements your dark hair and enhances your features. Whether you're doing your makeup yourself or working with a professional, these tips will help you achieve a flawless and radiant bridal look.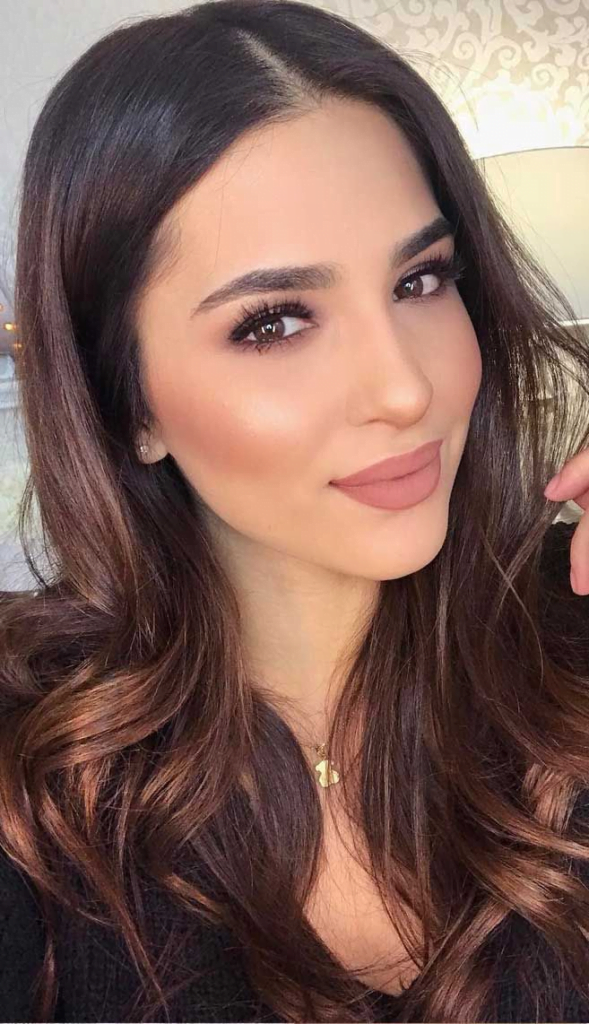 Choosing the right foundation is crucial for dark-haired brides. Opt for a shade that matches your skin tone, and if you have warm undertones, select a foundation with warm undertones as well. Blend the foundation evenly, ensuring it covers any blemishes or imperfections. If you prefer a dewy finish, mix a liquid highlighter into your foundation for a radiant glow.
Gorgeous Makeup For Blue Eyes
The key to making blue eyes stand out is selecting eyeshadow shades that complement and contrast with the blue. Shades like bronze, copper, and warm brown can create a beautiful contrast with blue eyes, making them appear more vivid. Colors on the opposite side of the color wheel, like soft purples and cool taupes, can also make blue eyes pop. Deep blue or green eyeshadows can enhance the intensity of blue eyes, especially for those with lighter blue eye colors. Soft, neutral colors like beige, taupe, and light pinks can create a subtle, everyday look that complements blue eyes.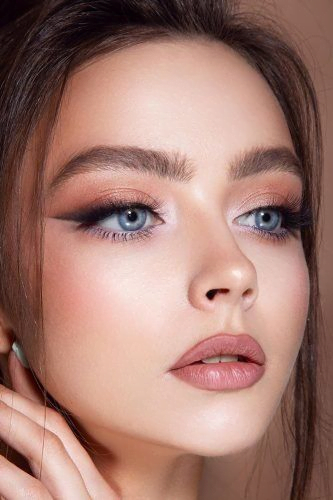 A classic smoky eye can work wonders for blue eyes. To achieve this look, use deep gray or charcoal eyeshadows and blend them well. Add a touch of shimmer on the center of your eyelids for extra dimension. Don't forget to finish with black or dark brown eyeliner and mascara for added drama. For blue eyes, dark brown or black eyeliner can emphasize the eye color. For a softer look, try navy blue or dark gray. Apply a thin line close to the lash line for a subtle effect or go for a more dramatic winged liner to create a bold statement.
Natural Bridal Makeup Brown Eyes
Start with a clean canvas. Cleanse and moisturize your face before applying any makeup. Ensure your skin is well-hydrated for a radiant look. Apply a makeup primer to create a smooth base for your foundation. This will help your makeup stay in place throughout the day. Foundation: Choose a foundation that matches your skin tone perfectly. Apply it evenly, blending it into your skin for a flawless finish. Use a concealer to cover any blemishes, redness, or dark circles under your eyes. Blend it well to ensure a seamless look.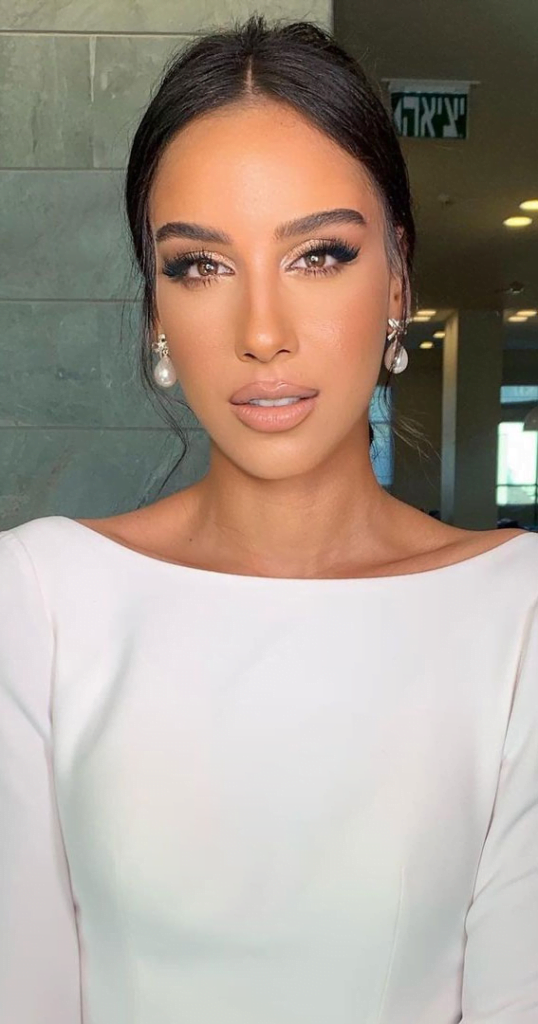 Lightly set your foundation and concealer with a translucent powder to prevent shine and ensure your makeup stays in place. Groom and shape your eyebrows. You can fill them in with a brow pencil or powder to define your eyes and frame your face. Opt for neutral shades like soft browns, taupes, and warm pinks. Apply a light shade on the lid, a slightly darker one in the crease, and a subtle shimmer on the inner corner of your eye to make them pop. A brown or black eyeliner along the upper lash line will define your eyes without looking too harsh. A thin, subtle wing can add a touch of elegance. Coat your lashes with mascara for a wide-eyed effect. You can even consider false lashes for extra drama if you wish.