The Haldi ceremony is a significant and colorful pre-wedding ritual in Indian culture. It's a joyous occasion filled with laughter, love, and turmeric, where the bride and groom are smeare with a paste made of turmeric, sandalwood, and other auspicious ingredients. To make sure you capture all the vibrant moments and emotions of this beautiful event, we've put together some DIY Haldi ceremony photography tips.
Haldi Pose With Mirror
Haldi, also known as turmeric, is a cherish ingredient in Indian culture. Beyond its culinary uses, haldi has deep-rooted significance in rituals and ceremonies, including weddings. The Haldi ceremony, a pre-wedding ritual in India, involves applying a paste of turmeric, along with other ingredients, on the bride and groom. It's not just a traditional practice; it's a celebration of love, purity, and the radiant glow of the couple-to-be.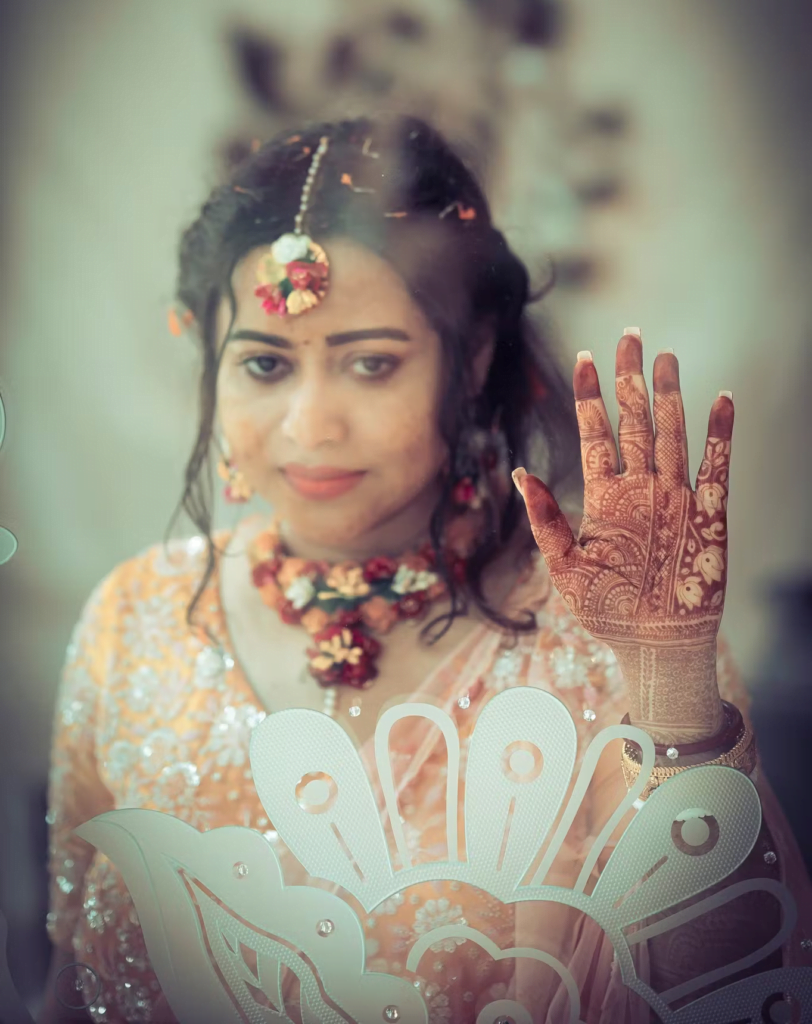 The Haldi ceremony is a joyous event fill with laughter, love, and blessings. It's a time when the bride and groom are pampered by their family and friends. The application of haldi paste is not only meant to enhance their beauty but also symbolizes the cleansing of impurities, blessings for good health, and protection from the evil eye.
Flower Shower Bridal Haldi Poses
Creating a Flower Shower Bridal Haldi photoshoot is a delightful way to capture the pre-wedding excitement and joy of the bride. The traditional Haldi ceremony is all about applying turmeric paste on the bride and groom to bring out their inner glow. Incorporating vibrant flowers and creative poses can add a touch of uniqueness and charm to this time-honored tradition. we'll explore some beautiful Flower Shower Bridal Haldi poses that will make for stunning photos.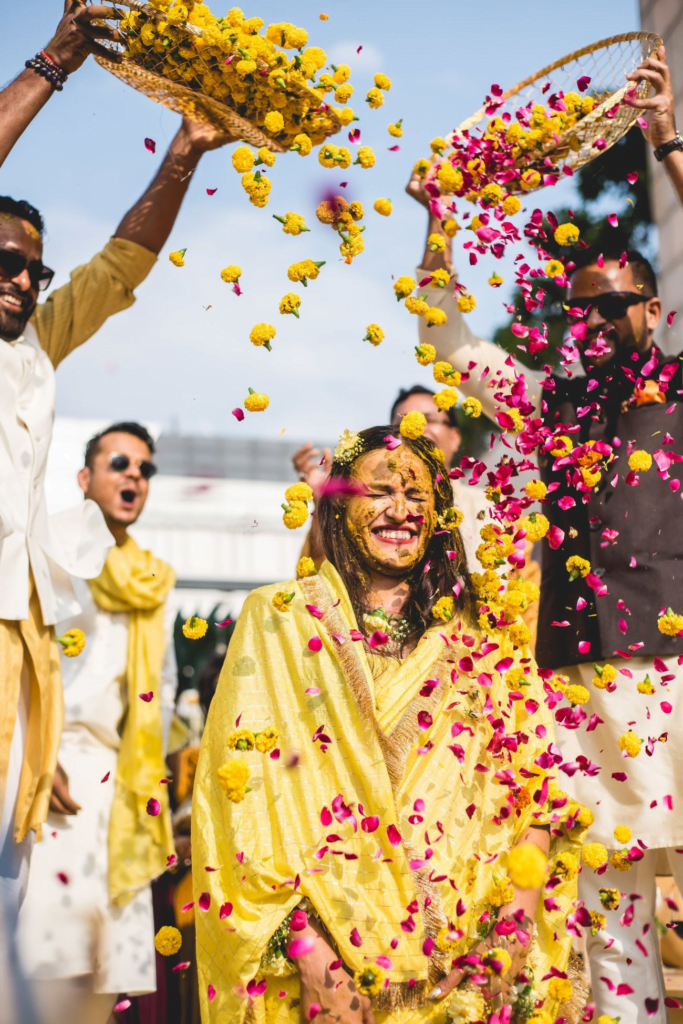 Remember to use a combination of candid shots and posed photos to capture the natural emotions of the moment. Discuss these poses with the bride and groom before the shoot to ensure everyone is on the same page and comfortable with the process. With these Flower Shower Bridal Haldi poses you'll create a memorable album that beautifully captures this special pre-wedding ceremony.
Haldi Pose With Kids
The haldi ceremony, a pre-wedding ritual in Indian culture, is a vibrant and joyful celebration that involves the application of turmeric paste to the bride and groom. This tradition is often accompanie by fun and candid photography sessions that capture the happiness and excitement of the occasion. One of the most endearing aspects of these photos is when children get involve, adding a touch of innocence and playfulness to the proceedings. we will explore some creative haldi pose ideas that involve kids, making the ceremony even more memorable.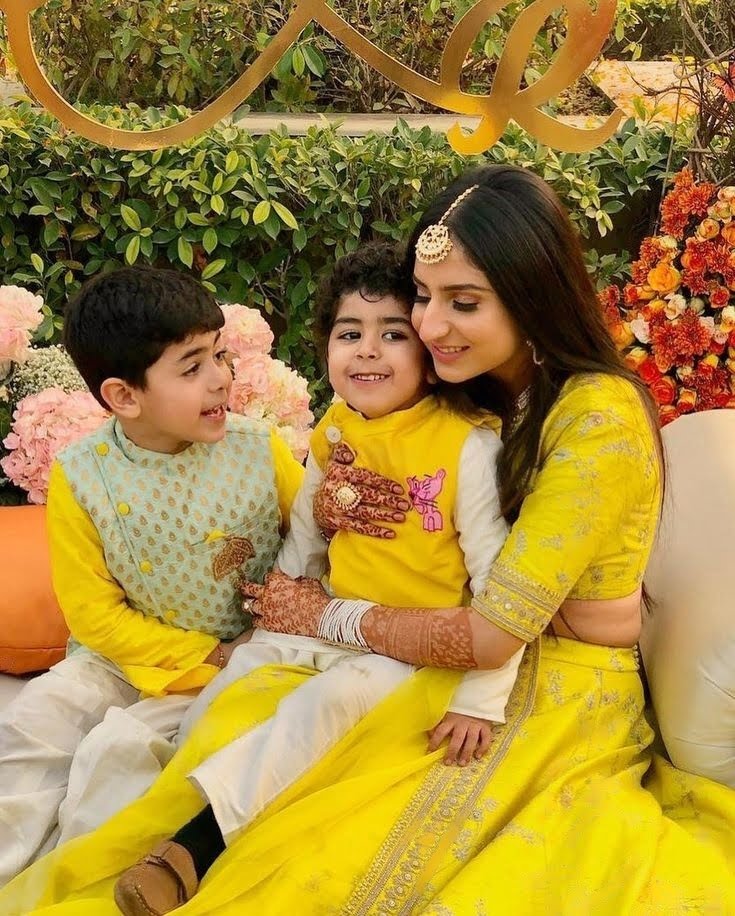 The haldi ceremony is a beautiful tradition, and involving children in the celebration adds an extra layer of charm and magic to the event. These haldi pose ideas with kids capture the essence of innocence, joy, and playfulness, making your pre-wedding celebrations even more special. Remember to prioritize safety and comfort for the children while ensuring they have a great time participating in this age-old tradition. Ultimately, these moments will become cherish memories for the entire family, symbolizing the start of a new and colorful chapter in the bride and groom's life.
An Adorable Couple Haldi Pose
Our story revolves around the charming couple, Ananya and Aarav. Their love story began years ago when they met in college and have become inseparable ever since. Ananya, with her radiant smile, and Aarav, with his witty humor, make for a match made in heaven. Their Haldi ceremony was a testament to their love, showcasing their genuine happiness and affection for each other.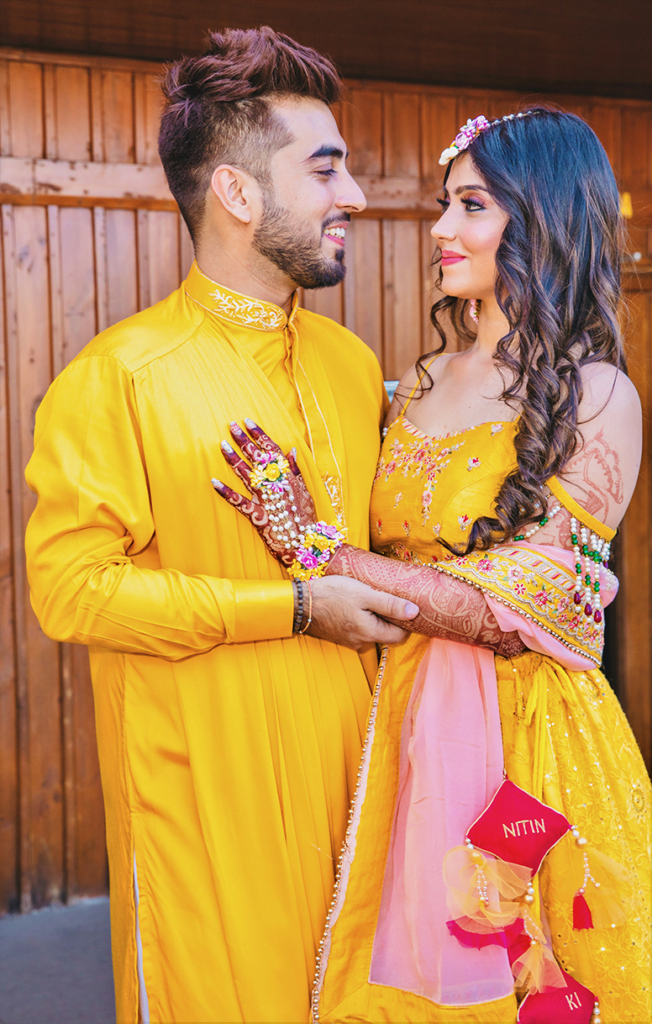 The Haldi ceremony setup was a stunning combination of traditional and modern elements. The venue was adorned with marigold flowers, adding a touch of tradition and auspiciousness. Vibrant yellow and orange drapes create a cheerful ambiance, while fairy lights add a whimsical glow.
Unique Bridal Haldi Poses
Capture the moment when the turmeric paste is apply to the bride's face. The intense colors and the bride's expression will make for a stunning photograph. Encourage candid moments where the bride shares a hearty laugh with her loved ones. These genuine emotions are what make Haldi ceremonies so special. Focus on the bride's face after the Haldi application. The vibrant yellow paste and her radiant smile will create a beautiful portrait. Showcase the bond between the bride and her sisters as they lovingly apply Haldi on her. This shot encapsulates the essence of the ceremony. Capture the intricate patterns created on the bride's hands with turmeric paste. These intricate designs are both artistic and meaningful. Photograph the moment when a tika of turmeric is applied to the bride's forehead. It signifies blessings and protection.
The bridal Haldi ceremony is a vibrant and sentimental part of any Indian wedding. By incorporating these unique poses, you can create a beautiful and memorable photo album that you'll cherish for years to come. Remember, it's not just about capturing the colors and rituals but also the emotions and connections that make this ceremony so special.