One of the main reasons blue bridesmaid dresses are so popular is their universal appeal. Blue is a color that complements a wide range of skin tones, making it a flattering choice for bridesmaids with various complexions. Whether your bridesmaids have fair, olive, or dark skin, there's a shade of blue that will work beautifully for everyone. This inclusivity is a major advantage when it comes to ensuring your bridal party looks and feels their best on your special day.
Light Blue Gowns For Bridesmaids
One of the remarkable features of light blue is the versatility it offers in terms of shade. Whether you prefer a pale baby blue or a slightly deeper sky blue, there's a light blue shade that will complement your wedding's theme and ambiance. Discuss various options with your bridesmaids to find the perfect shade that suits everyone.'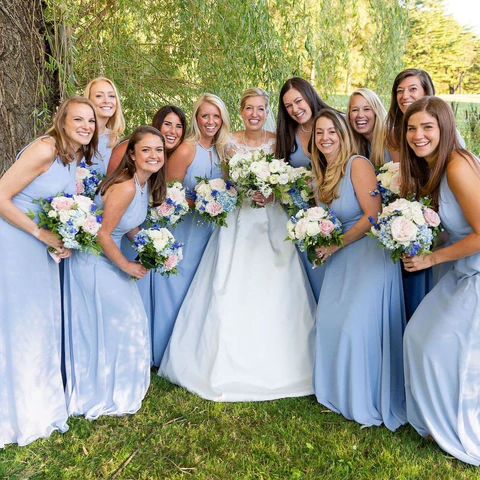 Light blue is a classic color that stands the test of time. Unlike trendy colors that may lose their appeal over the years, light blue gowns for bridesmaids remain a timeless choice that will look just as stunning in your wedding photos years down the road as they do on your special day.
Sky Blue Bridesmaid Gowns
Sky blue is a color that has stood the test of time, and for good reason. It's a shade that brings to mind the expansive, clear skies and calm, tranquil waters. This makes it a fantastic choice for any wedding setting, from beachfront ceremonies to elegant ballroom affairs. Sky blue has an inherently calming effect, making it not only visually appealing but also emotionally soothing.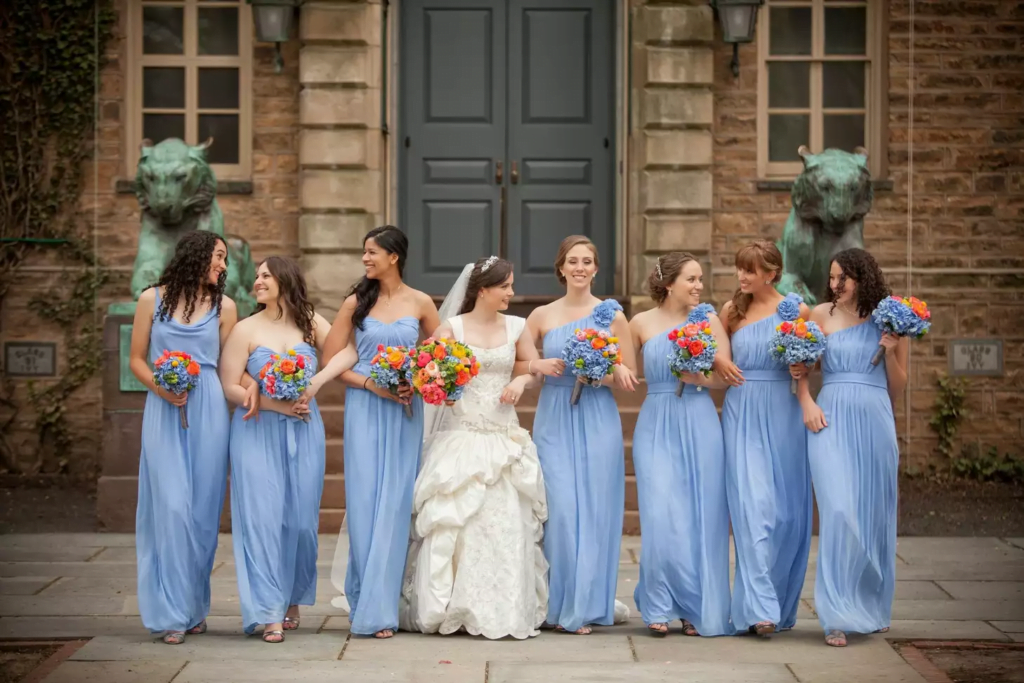 One of the remarkable features of sky blue bridesmaid gowns is their versatility. Whether your wedding style is classic, modern, rustic, or bohemian, sky blue can seamlessly blend in. It serves as a neutral canvas for various dress styles, making it easy to accommodate your bridesmaids' individual preferences. Empire waists, A-line skirts, or mermaid silhouettes – sky blue can enhance the beauty of any gown.
Slate Blue Color Gowns For Your Girls
Slate blue is a timeless and versatile color that complements a wide range of skin tones. Whether you're having an indoor or outdoor event, this shade exudes elegance and can be easily incorporated into various themes and aesthetics. Slate blue gowns look stunning in different fabrics, from chiffon to satin, and everything in between. Depending on the season and formality of your event, you can choose a fabric that suits the occasion.
Slate blue is a color that allows for creativity. You can choose to have your bridesmaids wear matching gowns for a cohesive look or mix and match styles and shades to add some variety to your bridal party. Slate blue pairs beautifully with metallic accents like gold or silver. Your bridesmaids can accessorize with matching or complementary jewelry, shoes, and bouquets to complete the look.
Pale Blue Bridesmaid Gowns
One of the most significant advantages of choosing pale blue bridesmaid gowns is that this color is universally flattering. Regardless of your bridesmaids' skin tones and hair colors, pale blue complements them beautifully. It has a serene and calming effect, making your bridal party appear radiant and feel confident on your special day.
Pale blue also allows for creativity when it comes to mixing and matching bridesmaid gowns. You can choose different styles and shades of pale blue dresses to create a cohesive yet individualized look for your bridal party. This approach adds a unique touch to your wedding and allows your bridesmaids to express their personalities.
Navy Blue Gowns For Bridesmaids
Navy blue is a versatile color that works well in any season. Whether you're planning a summer beach wedding or a cozy winter affair, navy blue bridesmaid dresses can easily adapt to the season. In summer, they exude a refreshing and nautical vibe, while in winter, they offer warmth and depth to your color scheme.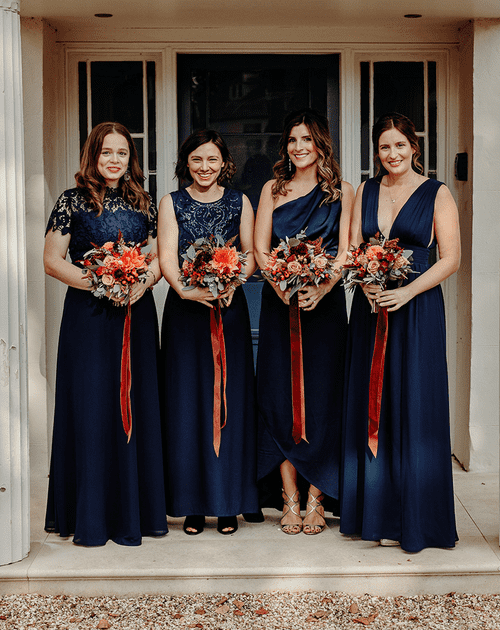 Navy blue pairs beautifully with a variety of other colors, allowing you to create the perfect color palette for your wedding. Popular combinations include navy blue and blush, navy blue and gold, or navy blue and white. These pairings can add a pop of color and personality to your wedding decor.