Your wedding day is one of the most significant and special occasions of your life, and every detail matters. One such detail that adds charm and elegance to your bridal look is the bridal payal, also known as anklets. These beautiful pieces of jewelry not only enhance your overall bridal attire but also carry cultural and traditional significance. Choosing the perfect bridal payal is a decision that deserves careful consideration. we will walk you through the essential factors to consider when selecting the ideal Payal for your big day.
Saccha Moti and Ghungroo Pairphool
The beauty of Sanchi Moti, also known as Basra pearls, lies in their timeless elegance and understated charm. These natural pearls are formed in the oysters of the Persian Gulf and have been coveted for centuries. Their soft, lustrous glow and delicate color make them a perfect choice for brides who seek sophistication and grace on their wedding day.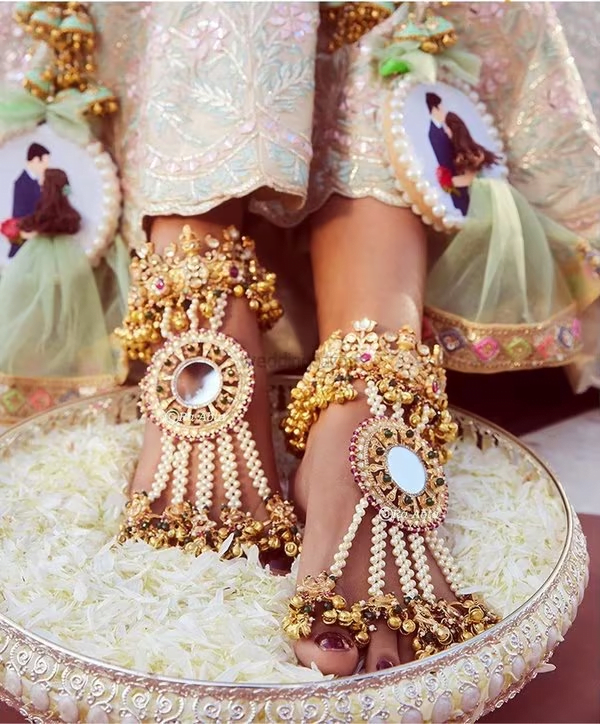 As you plan your wedding, don't overlook the power of details like Sanchi Moti and Ghungroo Pairphool. These elements have the potential to elevate your bridal look to new heights and create a memorable, magical experience for you and your guests. Embrace the timeless elegance of pearls and the melodious charm of Ghungroos, and let your wedding day be a symphony of beauty and sound.
Minakari & Emerald Gold Payal
Minakari, also known as Meenakari, is an age-old and intricate art form that involves the enameling of metal surfaces with vibrant colors and intricate designs. This art form, which traces its origins to Persia, has been cherished and practiced in India for centuries. Minakari work involves the application of colored enamel on metal surfaces, usually gold or silver, resulting in stunning pieces of jewelry or accessories. Its vibrant hues and detailed patterns make Minakari a perfect choice for bridal jewelry.
Emeralds are gemstones that have been cherished for their rich green color and deep symbolism for centuries. They symbolize rebirth, love, and fertility, making them a fitting choice for a wedding accessory. When emeralds are encrusted in gold jewelry, they create a mesmerizing contrast between the lush green and the opulent gold.
Choose A Minimal Floral Pair of Anklets
These anklets feature small, handcrafted rose petals made from silk or satin fabric. They're designed to encircle the bride's ankles, adding a subtle touch of romance and nature to her look. A delicate vine of artificial jasmine flowers can be a beautiful addition to the bride's ensemble. Jasmine is often associated with love and sensuality, making it a meaningful choice for a wedding. Tiny sprigs of baby's breath flowers wrapped around a thin silver or gold chain create a minimal and ethereal look. Baby's breath is a symbol of purity and innocence, making it a lovely choice for a bride.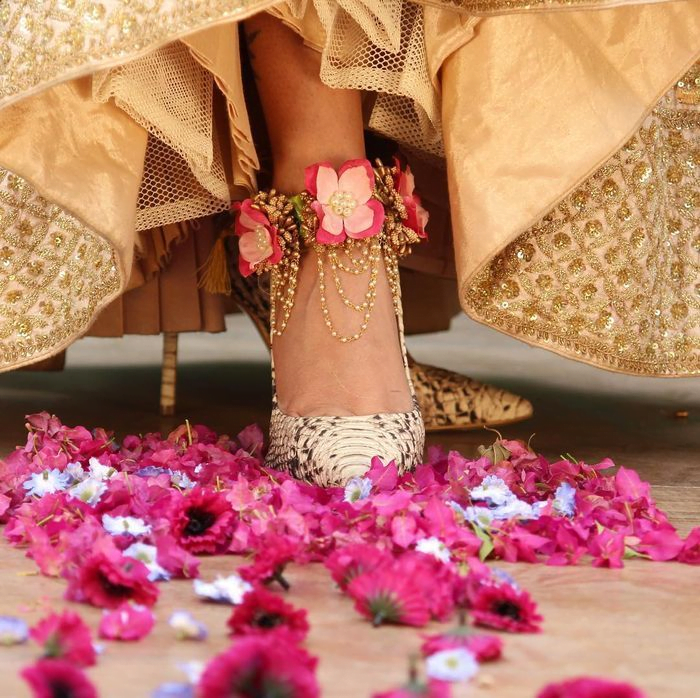 Cherry blossom anklets, with their pale pink or white blossoms, symbolize beauty, love, and the fleeting nature of life. They can add a touch of grace and delicacy to the bride's feet. Lily of the Valley is often associated with happiness and humility. Anklets featuring small, white, bell-shaped blooms can be a charming and understated addition to the bride's attire. Orchids symbolize love, beauty, and luxury. A pair of orchid anklets, whether real or artificial, can add an exotic and elegant touch to the bride's look.
Adorn Your Ankles In Traditional Kundan Payals
Kundan jewelry has been a staple in Indian bridal wear for centuries. The intricate craftsmanship and the use of uncut diamonds, gemstones, and gold give Kundan jewelry its distinct charm. When it comes to bridal anklets, Kundan payals bring an air of traditional opulence that complements any bridal outfit.

Kundan payals come in various designs to suit different bridal styles. Whether you're going for a classic, contemporary, or fusion look, you can find Kundan payals that perfectly match your attire. Explore options like traditional round-shaped payals, chandelier-style anklets, or minimalist chain anklets to find the one that suits you best.
A Delicate Silver Payal
A wedding is a special occasion that calls for meticulous attention to detail in every aspect, and the bride's jewelry is no exception. Among the plethora of adornments available, the silver payal stands out as a timeless and delicate choice. This beautiful accessory not only adds a touch of elegance but also holds cultural significance in many Indian weddings. In this blog post, we will explore the charm and allure of a delicate silver payal as the perfect accessory for the bride on her big day.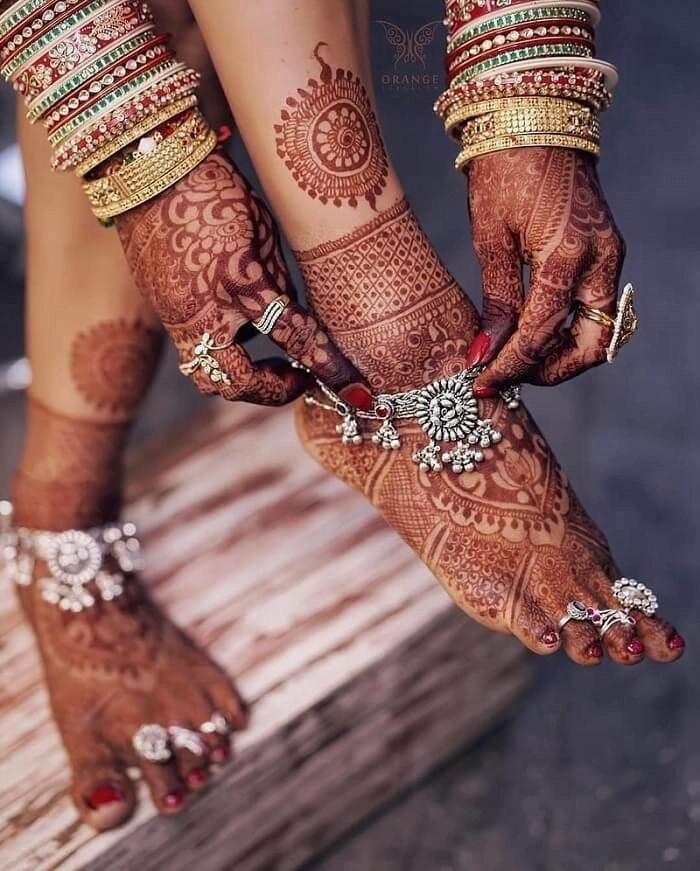 In the grand tapestry of bridal jewelry, a delicate silver payal is a precious thread that adds charm, tradition, and elegance to the overall picture. Its significance, versatility, craftsmanship, and comfort make it the perfect choice for the modern bride. Whether you're embracing tradition or seeking a contemporary touch, a silver payal can be the icing on the wedding cake, making you look and feel like a true queen on your special day.