Traditional wedding gowns have long been the go-to choice for brides on their big day. However, as wedding trends evolve and individuality becomes increasingly important, bridal jumpsuits are gaining popularity. These stylish and modern alternatives to the classic wedding dress are not only comfortable but also make a bold fashion statement.
Formal Wedding Jumpsuits
As the world of weddings continues to evolve, so do the bridal fashion trends. While the classic bridal gown will always be a timeless choice, many modern brides are embracing a more contemporary and unconventional approach. One such trend that has been taking the bridal world by storm is the formal wedding jumpsuit.
The modern bride's quest for individuality and self-expression has given rise to the popularity of formal wedding jumpsuits. These elegant and versatile garments allow brides to break away from tradition while maintaining the aura of sophistication that every wedding demands. Whether you're drawn to a minimalist aesthetic, intricate embellishments, or unconventional colors, the world of formal wedding jumpsuits has something to offer every bride looking to make a stylish statement on her special day. Embrace the jumpsuit trend, and redefine elegance on your wedding day.
Elegant Jumpsuits For The Bride
As the wedding industry continues to evolve, brides are exploring new and exciting ways to express their individuality and style on their big day. One of the most intriguing trends to emerge in recent years is the bridal jumpsuit. With its combination of modernity, sophistication, and comfort, an elegant jumpsuit can be the perfect choice for a bride looking to make a statement and break away from traditional wedding attire.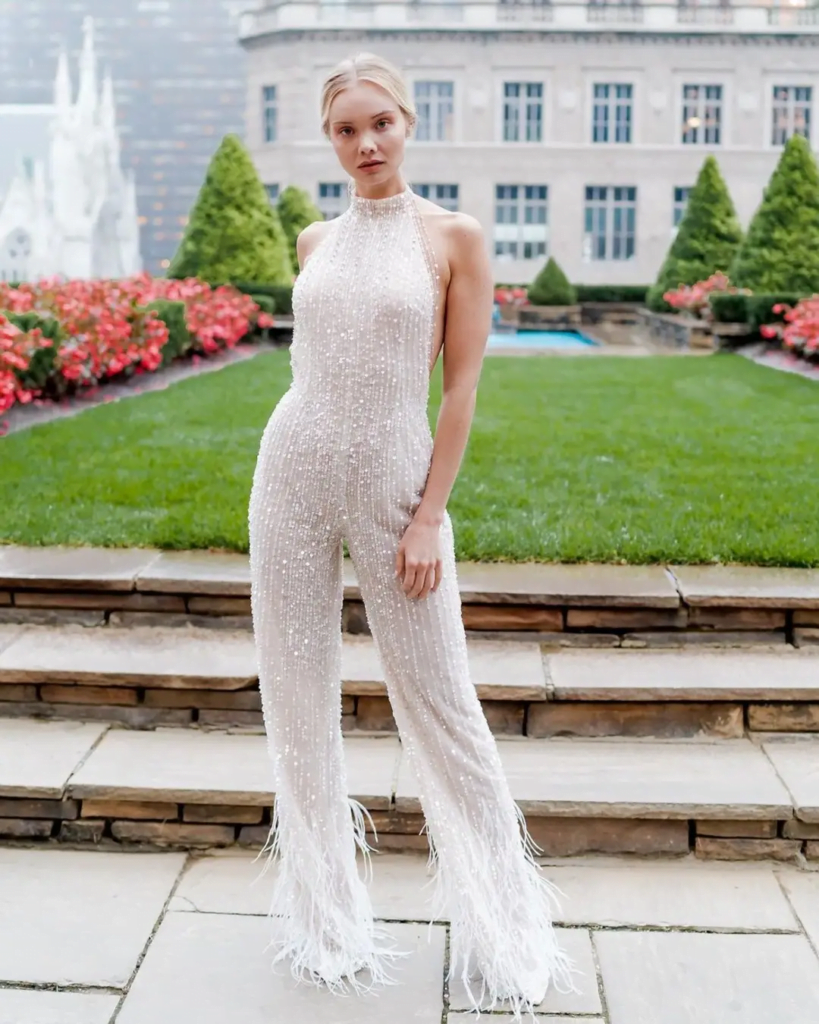 Elegant jumpsuits for the bride are a chic and contemporary choice that continues to gain popularity in the world of weddings. With their comfort, versatility, and fashion-forward appeal, they offer brides a unique opportunity to express their style on their special day. If you're a bride-to-be seeking a non-traditional yet elegant wedding attire, consider exploring the world of bridal jumpsuits. They may just be the perfect choice to make your wedding day truly unforgettable.
Simple Jumpsuit Ideas
A timeless and elegant white jumpsuit with a tailored fit and wide-leg pants can be the perfect choice for a modern bride. Accessorize with a statement belt and minimalistic jewelry. Opt for a white jumpsuit with delicate lace or sheer sleeves and bodice. This adds a touch of romance and femininity to your wedding look.An off-shoulder jumpsuit can be both stylish and comfortable. Choose one with a cinched waist and flowing pants for a relaxed yet chic appearance. A backless jumpsuit with a deep V-neck can provide a sexy and sophisticated bridal look. Ensure you have the right undergarments for this option.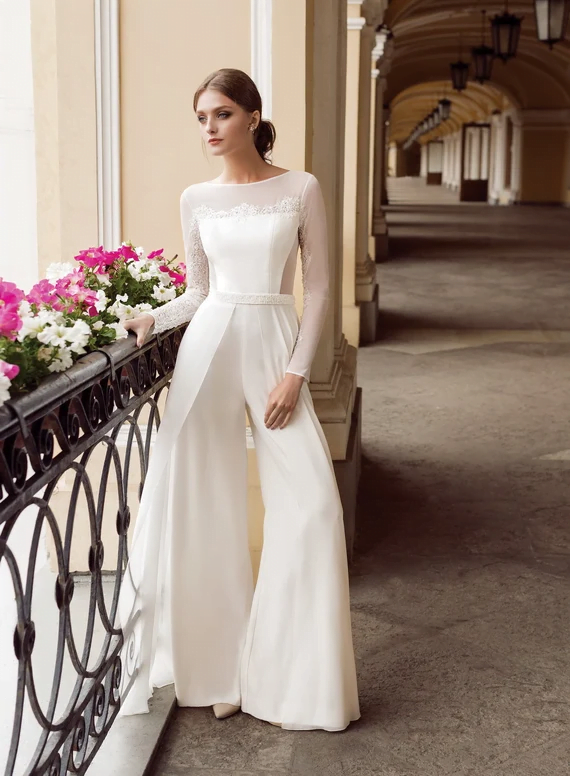 Break away from tradition with a soft blush or pastel-colored jumpsuit. It's a subtle way to incorporate color into your bridal outfit. A tuxedo-style jumpsuit with a sleek, tailored silhouette can make you feel empowered and confident on your special day. Pair it with a bow tie or statement earrings. A bohemian bride might prefer a jumpsuit with flowing, wide-leg pants and floral embroidery or other boho details. Add a flower crown for that perfect boho touch. Elevate your jumpsuit by adding a detachable cape. Capes can add drama and flair to your bridal look, and they're easy to remove for the reception.
Cocktail Wedding Jumpsuits
Cocktail wedding jumpsuits are incredibly versatile. They can be tailored to suit a variety of wedding themes, from casual beach weddings to glamorous city soirées. Whether you're a minimalist bride or looking to make a bold fashion statement, there's a jumpsuit for every taste and style. Timeless and elegant, a white bridal jumpsuit exudes sophistication while maintaining a bridal essence. If you're planning a boho wedding, consider a lace or flowy jumpsuit that blends perfectly with the theme.
Cocktail wedding jumpsuits have emerged as a refreshing and stylish alternative to traditional wedding gowns. They offer brides the freedom to express their unique style and the comfort to fully enjoy their big day. By choosing the right style, fabric, accessories, and overall look, you can rock a cocktail wedding jumpsuit that's perfect for you and your special day.
Tulle Bridal Jumpsuits
In the world of bridal fashion, tradition often takes center stage. However, today's brides are redefining wedding style, opting for more unique and unconventional choices. One such trend that has gained immense popularity in recent years is the tulle bridal jumpsuit. These stunning, unconventional pieces combine the comfort and elegance of a traditional wedding gown with a modern twist.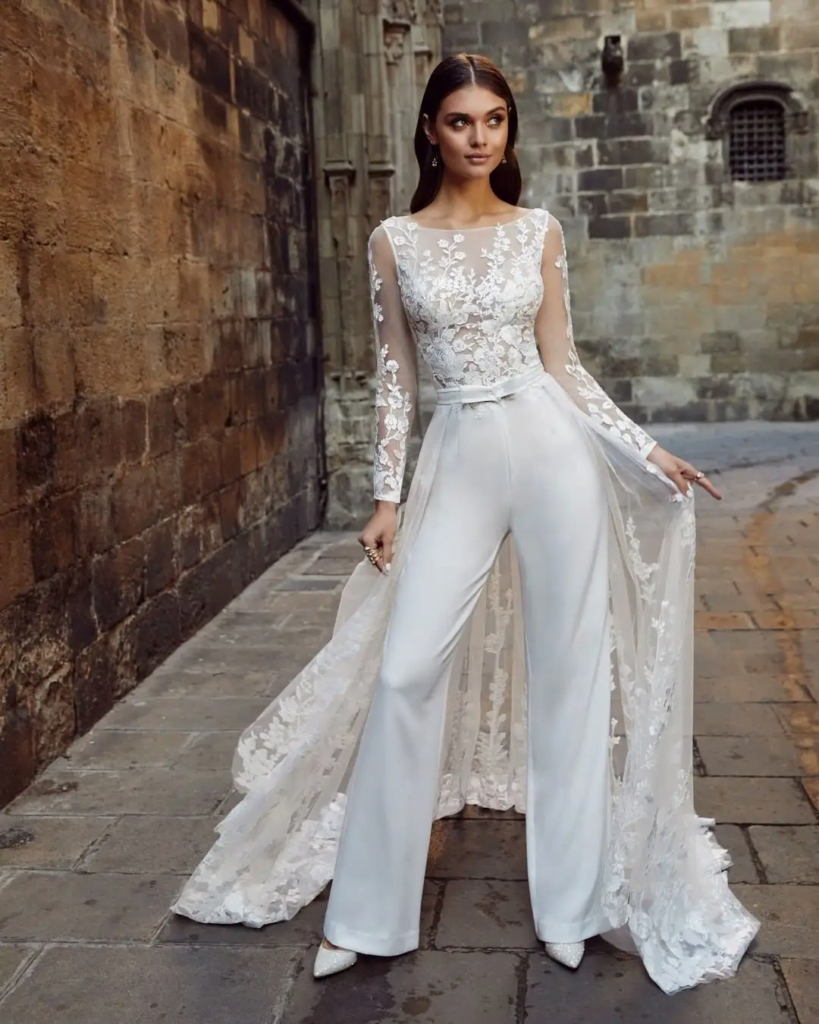 Tulle bridal jumpsuits are a symbol of the evolving bridal fashion landscape. They capture the essence of the modern bride who seeks comfort, style, and uniqueness on her special day. These versatile ensembles have made a significant mark in the world of weddings, and with the right tulle jumpsuit, any bride can radiate elegance and confidence as she walks down the aisle.