Choosing the right typography for rustic wedding invitations is a crucial step in setting the tone for your special day. Rustic weddings are often characterized by their natural, relaxed, and charming ambiance. The typography you select should reflect this theme and create a cohesive look for your invitations.
Simple Wedding Invites In Rust
Rustic wedding invitations exude a warm and inviting atmosphere. Their simplicity and natural elements create a sense of down-to-earth charm. From wooden textures to muted earthy colors, the rustic style is perfect for couples looking to celebrate their love in a cozy and intimate setting. One way to incorporate a rustic feel into your wedding invites is by choosing rust-colored stationery. This rich and earthy hue conveys warmth and nostalgia. Opt for paper in varying shades of rust, or use it as an accent color for text and design elements.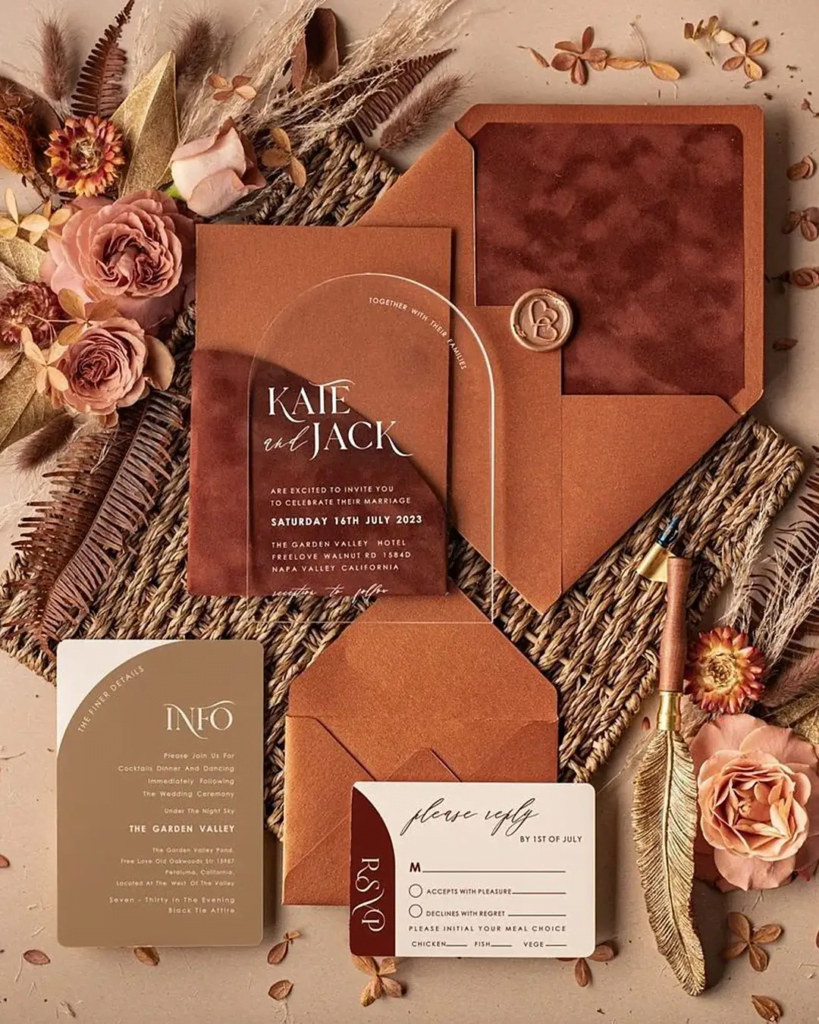 Consider using vintage-style illustrations or graphics that evoke a sense of nostalgia. This can be anything from a rustic barn or a pair of intertwined hearts. Incorporating these illustrations into Your design will emphasize the overall rustic theme. Rustic invitations are perfect for a simple design approach. Think about using subtle patterns like wood grain or burlap textures as background elements. Keep the design uncluttered and allow the rustic charm to shine through.
Elegant Rust Wedding Invitations
Rustic elegance combines the warmth and simplicity of rustic elements with a touch of sophistication. It's about striking the right balance between nature-inspired design and refined details. Rustic wedding invitations embrace this aesthetic with their use of earthy colors, natural textures, and intricate details. They set the stage for a wedding that is both charming and sophisticated.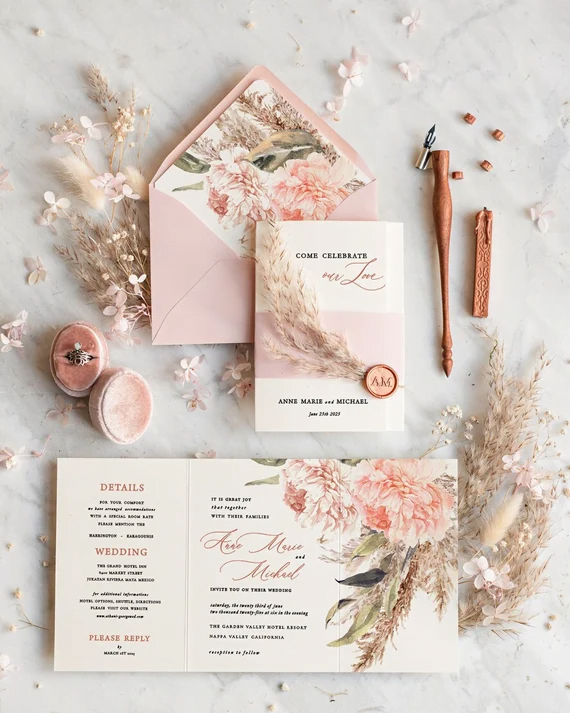 The color palette for elegant rust wedding invitations is typically inspired by the rustic outdoors. Think warm earth tones like soft browns, dusty greens, and muted oranges. These colors evoke the feeling of autumn and a cozy, intimate atmosphere. Consider incorporating metallic accents like gold or copper to add a touch of luxury to your design.
Modern Wedding Invitations
Minimalism is a timeless trend in the world of design, and it's making its mark on wedding invitations. Think clean lines, ample white space, and simple typography. A modern wedding invitation doesn't have to be cluttered with excessive details. Embrace minimalism for a sleek and sophisticated look.
The digital age has given rise to the popularity of digital wedding invitations. With e-invitations, you can save on paper and postage costs while reducing your carbon footprint. Additionally, digital invitations allow for interactive features like RSVP links and video messages.
Vintage Wedding Invitations In Rust
Explain what vintage aesthetics encompass, such as lace, muted color palettes, and delicate patterns. Provide examples of how these elements can be incorporated into wedding invitations. Discuss the importance of choosing the right paper, fonts, and printing methods for vintage invitations. Mention how paper texture and quality can impact the overall feel of the invitation. Offer design inspiration ideas, such as Art Deco, Victorian, or rustic vintage themes.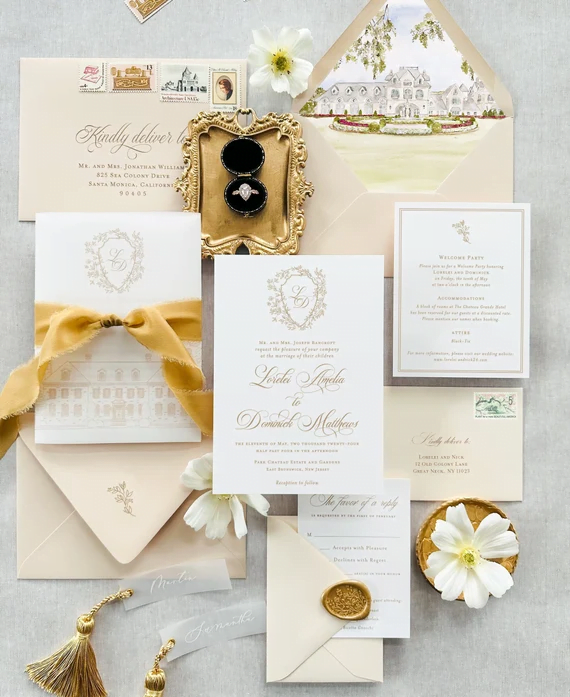 Include images or descriptions of actual vintage wedding invitations for reference. Explore how the "Rust" element can be added to the vintage theme. Discuss color schemes, such as earthy tones and rusty accents. Compare the advantages and disadvantages of creating vintage wedding invitations yourself versus hiring a professional designer. Share tips for DIY enthusiasts on where to find resources and materials. Emphasize the importance of personalization in wedding invitations. Share ideas for incorporating the couple's unique story into the design.
Unique Wedding Invitation Ideas
Capture your love story and personality as a couple through custom illustrations on your wedding invitations. You can opt for illustrations that tell your unique tale, from the first meeting to your proposal or even just fun illustrations of you and your partner. For a beach or coastal wedding, consider sending your invites in mini message bottles. This unique delivery method not only reflects the theme but also adds an element of surprise and delight.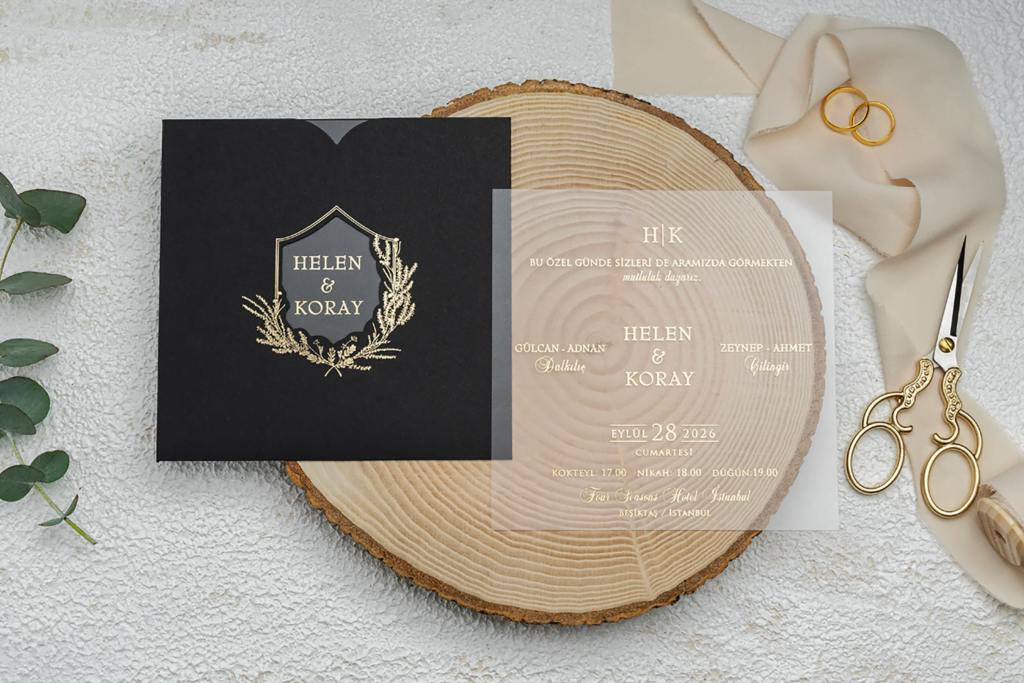 For a travel-themed wedding or if you're having a destination celebration, consider creating passport-style invitations. This creative approach will make your guests feel like they're embarking on an exciting journey with you. If you and your partner share a love for music, consider sending out vinyl records with customized labels as your invitations. You can include a playlist of songs that are significant to your relationship.