You must plan your honeymoon in Asia according to its timing in order to have the best experience. There are several different weather patterns and peak tourist seasons in Asia, so choosing the right time can make or break your romantic getaway.
Bali, Indonesia
Bali, Indonesia, the Island of the Gods, is a paradise for honeymooners seeking a blen of exotic beauty, vibrant culture, and romantic experiences. As we embark on our honeymoon adventure to this enchanting island, we discover the perfect combination of relaxation and adventure
Our journey began with a warm welcome at Ngurah Rai International Airport. We were immediately struck by the fragrant floral leis offer to travelers, setting the tone for our romantic escapade. After checking into our luxurious beachfront resort in Nusa Dua, we unwound by the pool with tropical cocktails, soaking in Bali's serene vibes.
Andaman Islands
The Andaman Islands, with their pristine beaches, crystal-clear waters, lush forests, and vibrant marine life, make for a dreamy and unforgettable honeymoon destination. If you're looking for a seclude paradise where you and your partner can escape the world and celebrate your love, the Andaman Islands are the perfect choice.
Our Andaman Islands adventure began with a flight to Port Blair, the capital city. Upon arrival, we were greet by the warm Andamanese hospitality. We check into our cozy beachfront resort and spent the day exploring the nearby beaches and enjoying the stunning sunset views.
Pokhara, Nepal
As we land in Pokhara, we were instantly captivate by the breathtaking views of the Annapurna and Machapuchare mountain ranges. After a short transfer from the airport to our cozy lakeside hotel, we enjoy a leisurely stroll along the beautiful Phewa Lake promenade.
One of the highlights of our trip was a trek to the Annapurna Sanctuary. We embarked on this breathtaking journey into the heart of the mountains, walking hand in hand along forested trails and through charming mountain villages. It was a bonding experience that allow us to connect with nature and each other.
Hong Kong
Embarking on a journey to Hong Kong for your honeymoon is a splendid choice. This bustling metropolis, renown for its mesmerizing skyline, delectable cuisine, and a vibrant blend of tradition and modernity, sets the stage for an unforgettable romantic adventure.
There is no doubt that your Hong Kong honeymoon will be a romantic journey filled with breathtaking sights, delicious cuisine, and cultural treasures. Whether you stroll along Victoria Harbour together, explore hidden temples, or dine at world-class restaurants, you are sure to find the perfect backdrop for your life's most beautiful adventure.
Cappadocia, Turkey
Cappadocia, Turkey, is a magical land that seems to have been plucked straight from a fairytale. With its otherworldly landscapes, charming cave hotels, and rich history, it's no wonder that Cappadocia has become a sought-after destination for honeymooners from around the world. If you're planning your dream honeymoon, consider exploring this captivating region.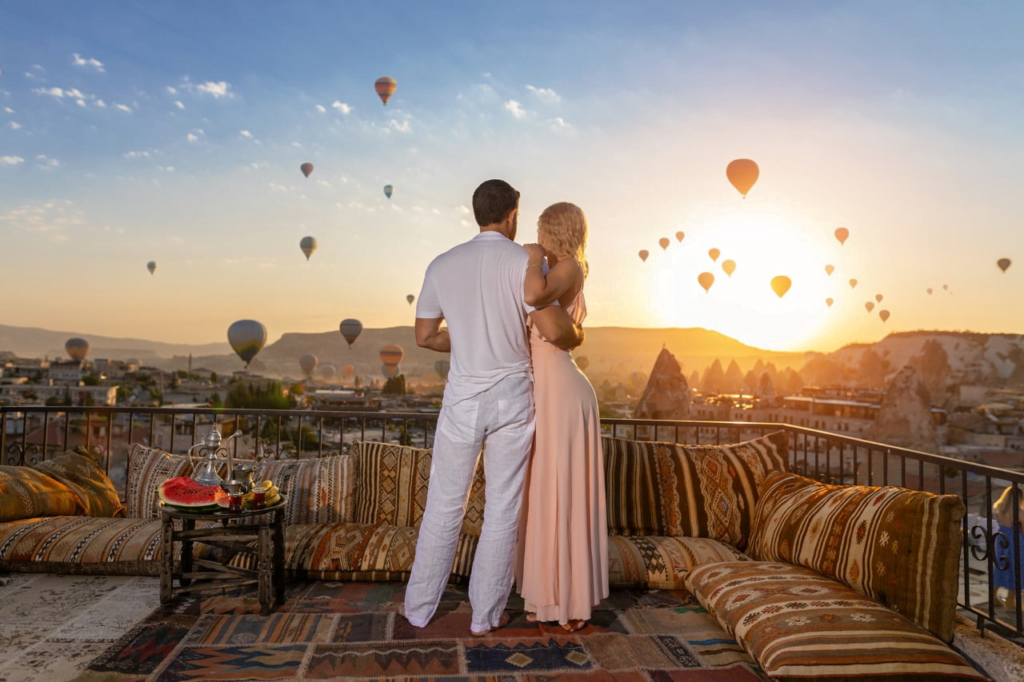 Cappadocia is a destination that embodies the essence of a romantic and unforgettable honeymoon. You'll never forget your time in Cappadocia, whether you ride a hot air balloon over the valleys or explore ancient underground cities.