One of the most popular trends in recent years is the concept of mismatched bridesmaid dresses. This approach allows each bridesmaid to choose a dress that suits her body type and personal style while still adhering to the wedding color palette. The result is a visually stunning and unique bridal party that adds a touch of individuality to your wedding.
Yellow Crepe and organza Embroidered Bridesmaid Lehenga
Yellow is a color that radiates joy, warmth, and positivity. It's no wonder why many brides opt for this vibrant hue in their wedding ensembles. As a bridesmaid, wearing a yellow lehenga not only complements the bride's outfit but also adds a touch of sunshine to the entire celebration. The choice of fabric plays a crucial role in the comfort and overall look of a lehenga. Crepe is known for its luxurious drape and softness, making it a perfect choice for a bridesmaid outfit. When paired with organza, it adds a touch of translucency and grace that's ideal for a wedding celebration.
Being a bridesmaid is an honor, and dressing the part is a reflection of your love and support for the bride. A yellow crepe and organza embroidered bridesmaid lehenga not only makes you look stunning but also adds a vibrant and joyful touch to the entire wedding celebration. So, if you're about to fulfill this special role, consider embracing the warmth and elegance of yellow in your attire.
Blue Floral Printed Lehenga
Blue floral printed lehengas are an excellent choice for wedding festivities. The combination of deep blue and intricate floral patterns adds an air of sophistication and elegance to your look. Pair your lehenga with heavy jewelry and a beautifully embroidered blouse for a truly regal appearance.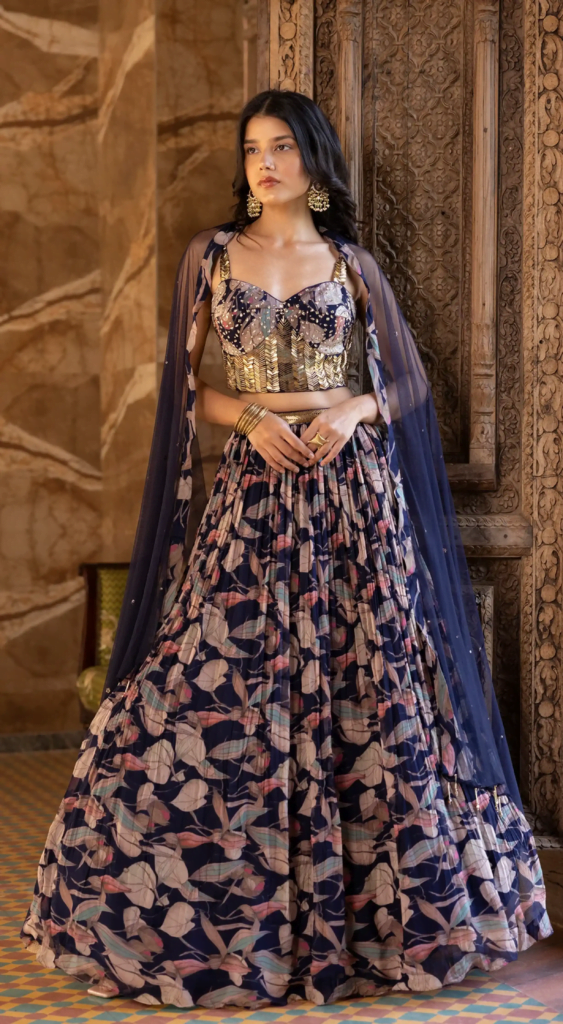 Blue floral printed lehengas offer a fusion of traditional and modern fashion, making them a stunning choice for a variety of occasions. Their versatility allows you to play with different styles and color combinations to create the perfect look for any event. Whether you're attending a wedding, a festive celebration, or just want to add some ethnic charm to your daily attire, a blue floral printed lehenga is a timeless and elegant choice that will undoubtedly turn heads and make you feel like a true fashion icon.
White Satin Printed Lehenga For Bride's BFF
White is a color that never goes out of style. It's a symbol of purity and grace, making it an ideal choice for a wedding celebration. A white satin printed lehenga combines the timeless appeal of white with the modern touch of intricate prints, resulting in an outfit that exudes elegance and sophistication. Whether you're participating in the bridal party or just attending the ceremony, this lehenga will help you make a lasting impression.
One of the key advantages of a white satin printed lehenga is its versatility. You can customize your look by choosing different prints and styles. Floral, geometric, or abstract prints can be incorporated into the design, allowing you to express your unique style. Whether you prefer a traditional or contemporary look, this lehenga can be adapted to suit your taste.
Bandhani Printed Lehenga in Navy Blue Colour
Navy blue, a color associated with depth, stability, and sophistication, complements the Bandhani technique wonderfully. It's a shade that exudes elegance and carries a sense of calm and authority. In Indian culture, blue often represents the divine and the infinite. Therefore, when combined with Bandhani's intricate patterns, navy blue transforms a lehenga into a masterpiece of artistry.
The navy blue Bandhani printed lehenga is a quintessential piece that encapsulates the essence of Indian fashion, tradition, and modernity. It's a fusion of art and elegance that transcends time and trends. Whether you're attending a wedding, a festival, or any special event, this lehenga is sure to turn heads and leave a lasting impression.
Pastel Blue Chanderi Floral Printed Lehenga
Pastel blue is a color that evokes tranquility, serenity, and a sense of calm. It's a hue that effortlessly complements all skin tones and makes the wearer exude an aura of refined elegance. The pastel blue Chanderi lehenga is a perfect choice for those looking to make a statement with subtlety.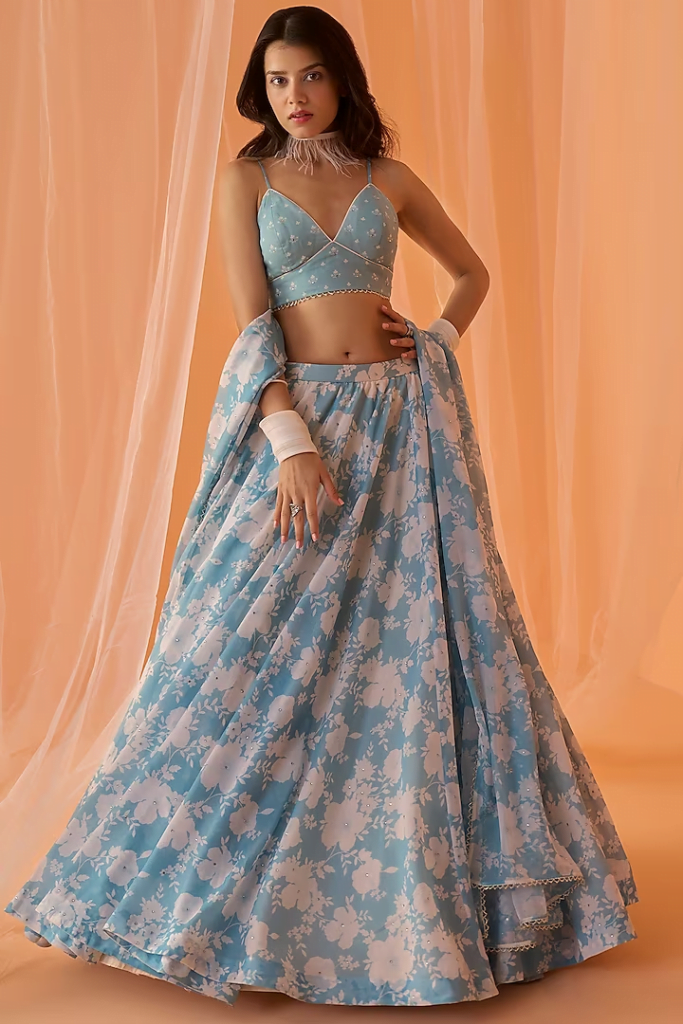 The Chanderi fabric has a rich history dating back to the Vedic period. This fabric is known for its sheer texture and glossy transparency, achieved by weaving silk and golden zari into the cotton fabric. Chanderi is not just a textile; it's an art form that's been passed down through generations. When you wear a Chanderi lehenga, you're donning a piece of history.