Indo-Western outfits are a reflection of the rich Indian culture blended with contemporary style. These outfits offer modern girls the opportunity to explore the best of both worlds and make a bold fashion statement. Whether you're attending a formal event or simply stepping out for a casual hangout, these must-have Indo-Western outfits should find a place in your wardrobe, ensuring you're always in vogue and feeling confident in your style.
A barbie pink jumpsuit embroidered with white pearls and golden embellishments
Barbie pink is a color that radiates positivity and a sense of fun. It's a hue that's impossible to ignore and is often associated with playfulness and femininity. When it's transformed into a jumpsuit, this seemingly playful color takes on a whole new level of sophistication. The combination of vibrant pink and the structure of a jumpsuit creates a unique blend of youthfulness and elegance.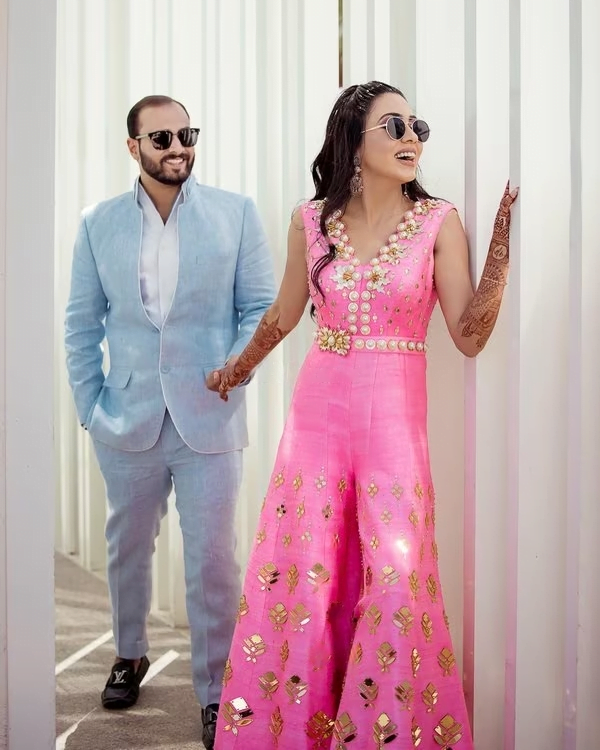 White pearls, with their timeless allure, are the perfect choice to enhance the jumpsuit's overall design. These lustrous gems are synonymous with luxury and sophistication. Whether they're subtly scattered across the outfit or form intricate patterns, white pearls add a touch of classic beauty to the Barbie pink canvas.
A grey blue embroidered one shoulder long kurta with a maxi skirt
Grey and blue are two colors that harmonize beautifully in the world of fashion. This particular one-shoulder long kurta takes these hues to another level with its subtle yet intricate embroidery. The grey-blue palette not only complements various skin tones but also adds a touch of serenity to your overall appearance. The one-shoulder design adds a hint of boldness, making it perfect for modern fashion enthusiasts.
The one-shoulder kurta is beautifully paired with a matching maxi skirt. The flowing silhouette of the skirt adds an element of grace to the outfit, and the color coordination keeps the look cohesive. Whether you're attending a wedding, a festive celebration, or a casual outing, this combination ensures you'll stand out in style.
An orange embroidered maxi dress with slit in the middle
Orange is a color that radiates energy, enthusiasm, and warmth. When incorporated into a maxi dress, it can transform your look into something truly magical. This vibrant hue adds a pop of personality to your wardrobe, making you stand out in any crowd. Whether you're attending a summer soirée or an outdoor wedding, an orange maxi dress is sure to turn heads.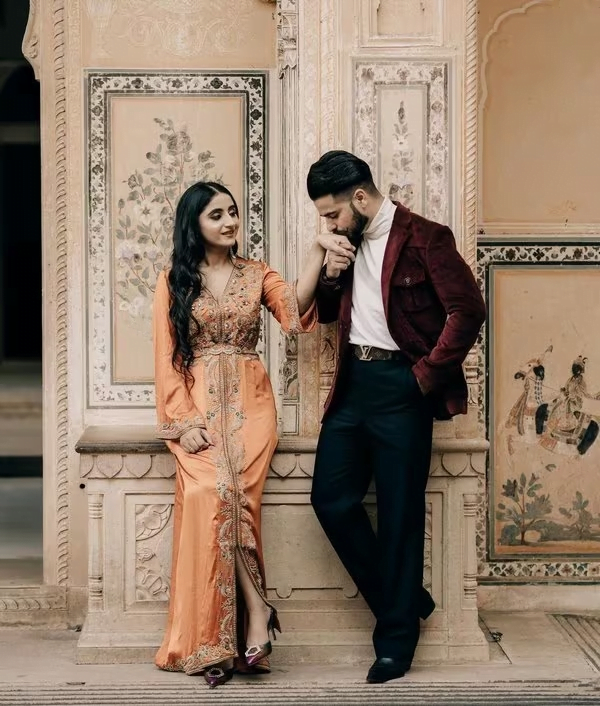 The middle slit in an orange embroidered maxi dress is not just a design choice; it's a statement. This bold feature offers a teasing glimpse of your legs while allowing you to maintain a graceful and flowing silhouette. It's a perfect balance between modesty and sensuality, making it a versatile choice for various occasions.
A vibrant yellow draped saree with contrast embroidered blouse
The saree, with its striking yellow hue, is a celebration of color and energy. Yellow is often associated with happiness, optimism, and positivity, making it an excellent choice for special events. The rich drape of this saree exudes warmth and exuberance, making it an ideal choice for festive gatherings, weddings, or even a night out with friends.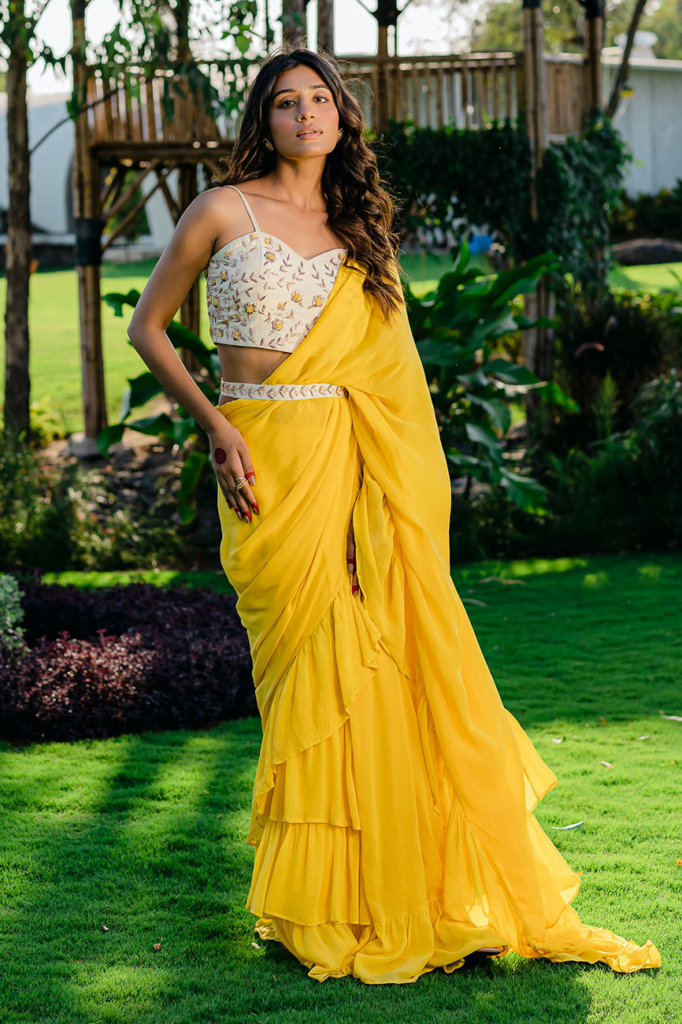 To complement the radiant yellow of the saree, a contrasting embroidered blouse is the perfect choice. The intricate embroidery adds a touch of glamour to the ensemble. The contrasting colors create a harmonious balance, drawing attention to the blouse's fine details while allowing the saree's vibrancy to shine through.
A dark green and golden crop top with a voluminous skirt and cape
To kickstart this magnificent ensemble, we begin with the dark green crop top. The dark green shade lends a rich and earthy tone that complements various skin tones and exudes an aura of elegance. Crop tops have been a trendy choice for several years now, and they can be versatile additions to your wardrobe. Whether you're heading to a formal event or a casual gathering, this dark green crop top is an exquisite choice that can be dressed up or down.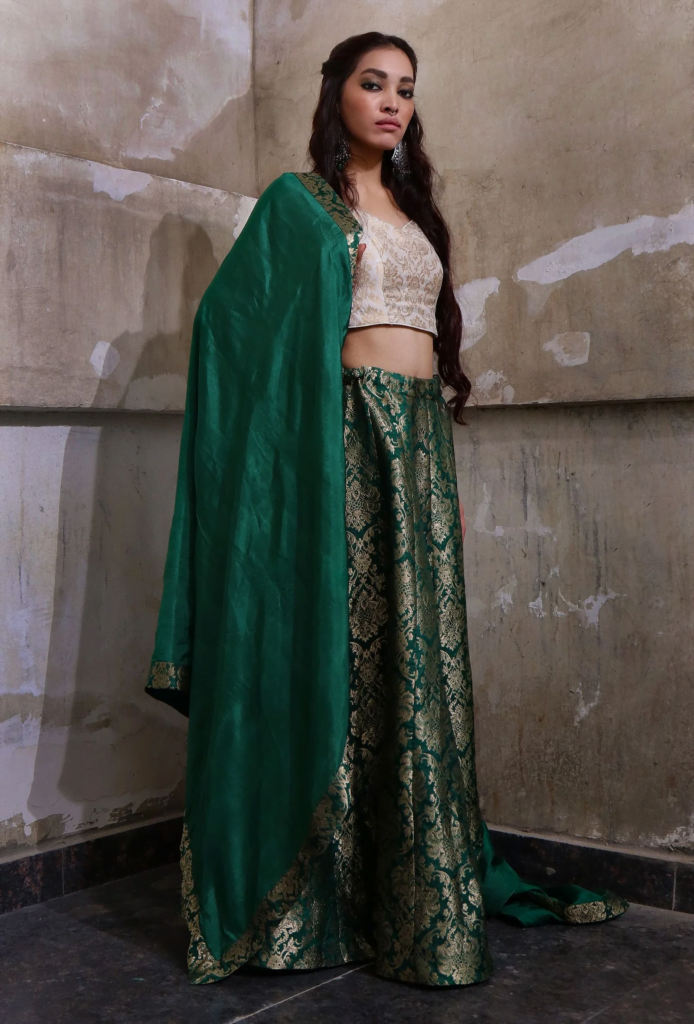 To complete this enchanting look, we introduce the cape. Capes have been making a comeback in the world of fashion, and they're a perfect addition to this ensemble. The cape adds a layer of mystery and sophistication to the outfit while keeping you warm on chilly evenings. The golden hue of the cape harmonizes with the skirt, creating a cohesive look that's nothing short of breathtaking.