South Indian weddings are a beautiful blend of age-old traditions and contemporary styles. The groom's attire plays a pivotal role in making the occasion memorable. South Indian groom attire is known for its rich cultural significance, vibrant colors, and intricate designs.
Mundu or Pancha with Pattu Kurta & Angvastram For Grooms-to-be
South Indian weddings are known for their rich cultural heritage and traditional customs. The groom's attire, often characterized by simplicity and sophistication, reflects the cultural diversity and historical importance of the region. The Mundu or Pancha, Pattu Kurta, and Angavastram play a pivotal role in enhancing the groom's appearance on this auspicious occasion.
When selecting your Mundu or Pancha, Pattu Kurta, and Angavastram combination, consider your personal style, the wedding theme, and the region's traditional customs. You can experiment with colors, embroidery patterns, and materials while staying true to the core elements of this classic attire.
Sherwani Designs For South Indian Grooms
South Indian grooms have a plethora of options when it comes to choosing the perfect sherwani for their wedding day. From traditional silk to contemporary designs, the sherwani choices are as diverse as the rich culture and traditions of South India. By selecting the right sherwani, grooms can add a touch of regal elegance to their wedding attire, making their special day even more memorable.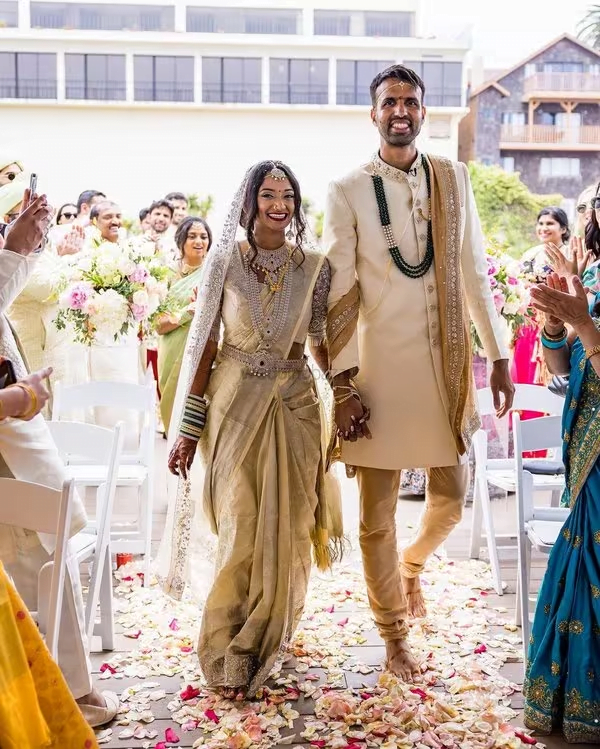 For grooms who want to add a modern twist to their wedding attire, contemporary sherwani designs offer a perfect balance of tradition and style. Opt for sherwanis with sleeker cuts, minimalistic embroidery, and subtle color combinations. Lighter hues like ivory, beige, and pastels, paired with contrasting trousers or churidars, can create a sophisticated contemporary look.
Black Suit Ideas For South Grooms
A well-fitted black suit paired with a silk kurta in traditional South Indian colors like deep maroon, emerald green, or royal blue can create a stunning look. This combination exudes elegance and sophistication. Adding an embellished or embroidered jacket to your black suit can provide a regal touch. The intricate detailing on the jacket can be inspired by South Indian motifs, enhancing the overall appeal.
A black suit is a versatile and elegant choice for South Indian grooms who wish to blend tradition with contemporary style. By incorporating South Indian elements such as silk kurtas, colored accessories, and traditional jewelry, you can create a distinctive and sophisticated look for your special day.