South Indian bridal rituals are steep in tradition and rich cultural heritage. One of the most captivating aspects of a South Indian bride's ensemble is her exquisite jewelry. Among the many styles of jewelry worn, temple jewelry holds a special place in these elaborate wedding ceremonies.
Beautiful gold temple jewelry
The history of South Indian temple jewelry dates back centuries and is deeply intertwine with the cultural and religious fabric of the region. Originally, this jewelry was create as offerings to deities in temples. Over time, it became a symbol of tradition, spirituality, and grandeur.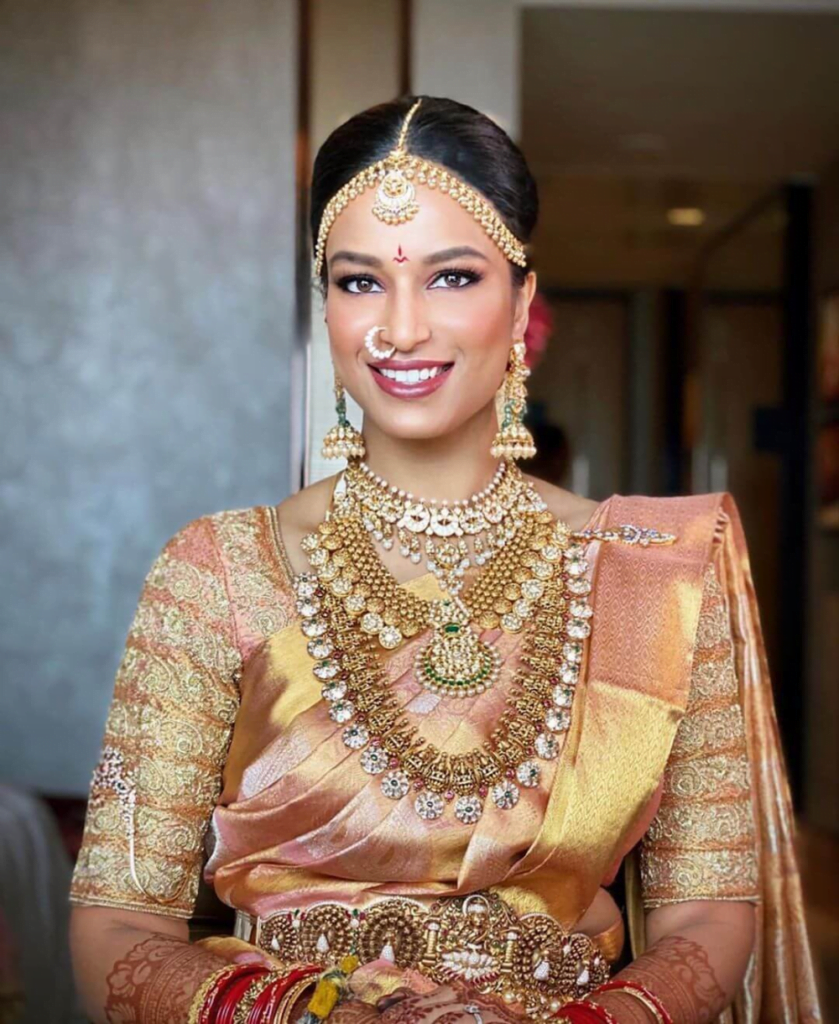 Gold temple jewelry holds immense cultural and emotional significance. Each piece is believe to carry blessings, protection, and divine energy, making it an essential part of a South Indian bride's trousseau.
A gold temple jewelry necklace is added to her face
Gold temple jewelry necklaces are a popular choice for South Indian brides as they add a touch of tradition and elegance to their bridal look. These necklaces are known for their intricate designs, fine craftsmanship, and the use of pure gold, making them a symbol of cultural heritage and wealth.
Gold temple jewelry necklaces are crafted with traditional motifs like deities, intricate patterns, and peacock designs. These designs frame the bride's face beautifully, adding a touch of timeless elegance to her appearance. The opulence of gold and the craftsmanship involve in temple jewelry make these necklaces stand out. They enhance the bride's face by drawing attention to her neck and collarbone, adding a sense of grandeur to her bridal attire.
Happy Bride's gold temple jewellery necklace
A South Indian bride's trousseau is incomplete without the resplendent allure of gold temple jewelry. These intricate masterpieces not only enhance the bride's beauty but also symbolize tradition and cultural significance.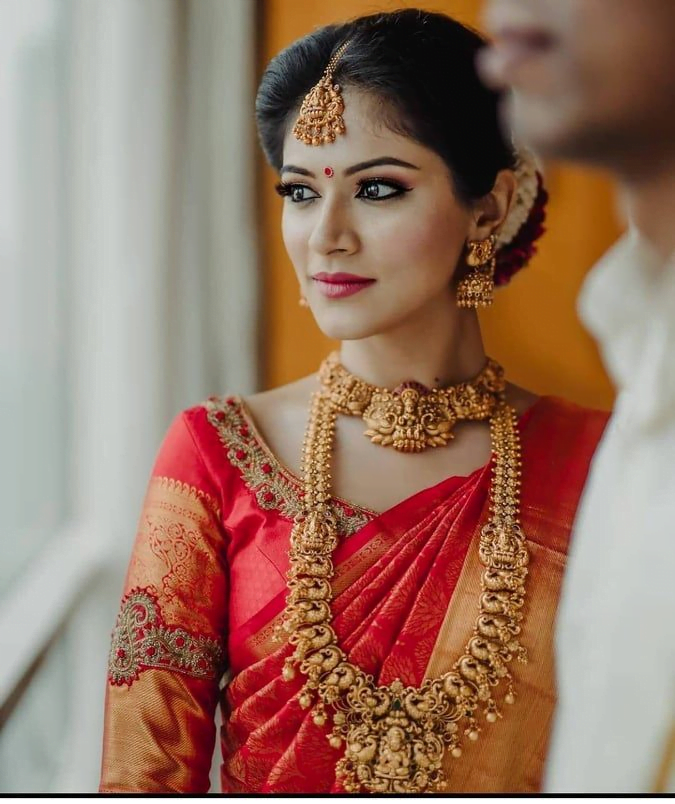 These pieces are craft with meticulous attention to detail, reflecting the divine artistry of the temples.