Creating a timeless outdoor photoshoot for couples can be a delightful and memorable experience. Whether you're a professional photographer or just looking to capture beautiful moments with your partner, these timeless outdoor poses for couples will help you create stunning and meaningful photos. Consider the location, lighting, and the couple's personalities to create a unique and intimate atmosphere.
A Game Of Roses
Have the couple walk hand in hand through a scenic outdoor location, like a park or a beach. This pose captures a relaxed and natural moment between the couple. Have one person gently rest their forehead on their partner's forehead. This pose conveys intimacy and tenderness.
This playful pose adds a fun and dynamic element to the photos. One person gives the other a piggyback ride, and you can capture their laughter and smiles.
Position the couple back-to-back and capture them looking in opposite directions. This pose symbolizes unity and facing life's challenges together. As the sun sets, have the couple share a passionate kiss. The soft, warm light of the sunset can create a beautifully romantic atmosphere.
One That Reminds You Of Every Romantic Film Ever
Romantic films have a magical way of capturing love in all its glory, making us believe in fairy tale endings and epic romances. If you're a couple looking to capture your love story in a way that reminds you of every romantic film ever, outdoor photography poses are the perfect way to do it.
Incorporate the timeless classic of gazing into each other's eyes. Find a beautiful outdoor location with a stunning view, and stand close to each other. As the sun sets or the soft light of golden hour falls upon you, lock eyes and let the world around you fade away. This pose captures the essence of undying love, just like the scenes in your favorite romantic movies.
The Elopement Shoot
Have the couple walk hand in hand along a scenic path, with the focus on their connection and the beautiful surroundings. Capture a sweet moment with the couple sharing a gentle kiss on the forehead while looking into each other's eyes. Find a cozy spot and have the couple sit close together, looking off into the distance or at each other.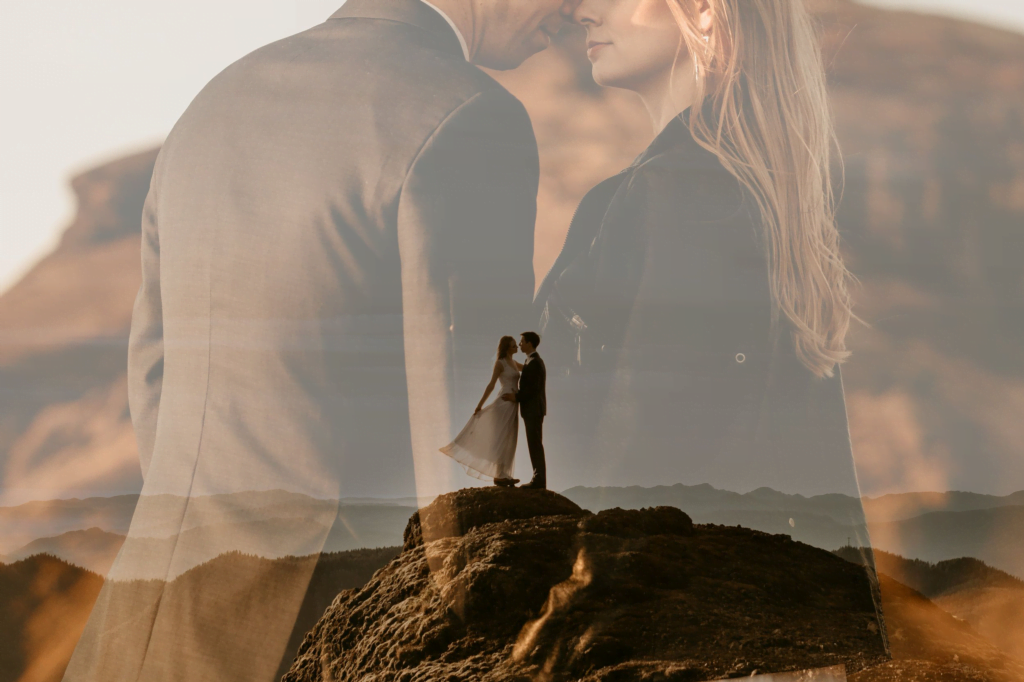 Encourage the couple to dance or twirl in a picturesque outdoor setting, like a meadow or by the water. For more adventurous couples, consider a fun shot where one partner lifts the other into the air, perhaps in a scenic location. Have the couple lean in close to share a secret or a quiet moment, which can create an intimate and candid shot.
Nothing Beats A Good Sunset Backdrop
Silhouettes against a setting sun can create a dramatic and artistic effect. Instruct your subject to stand with their back to the camera and strike a pose. To ensure a clear silhouette, set your camera to spot metering and focus on the sky. Use a wide aperture for a beautiful bokeh effect in the foreground.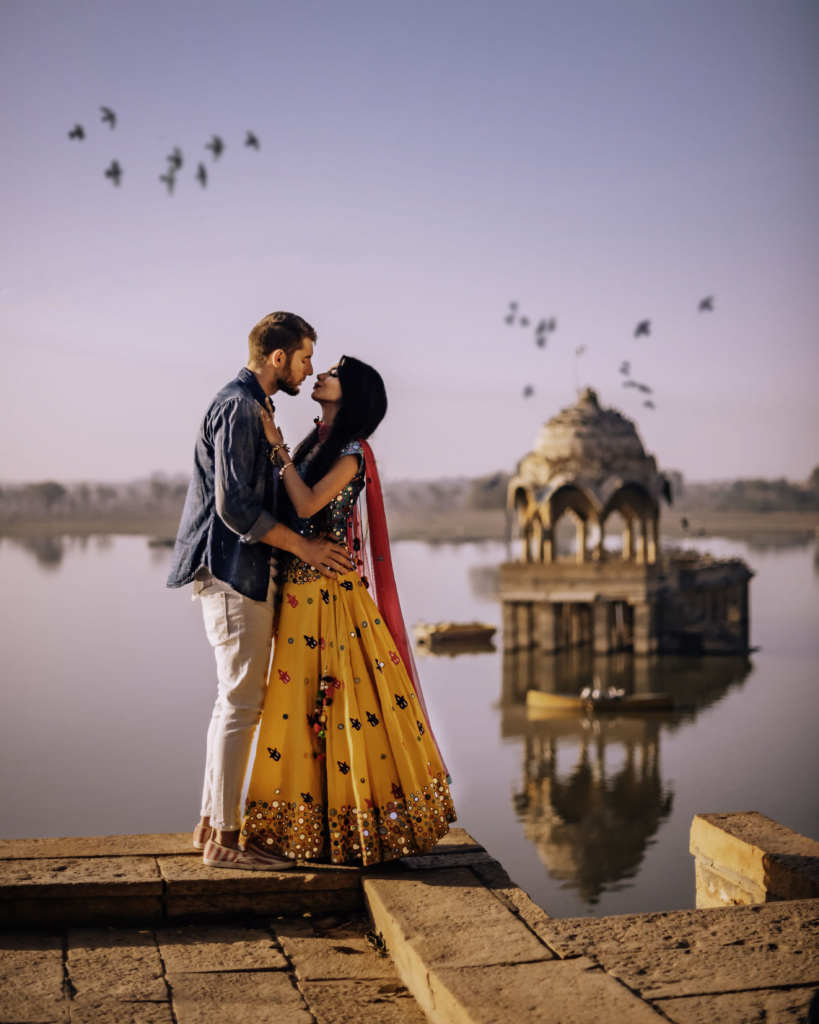 Use natural elements in the environment to guide the viewer's eye towards the sunset. For example, have your subject stand at the end of a winding path, use a line of trees, or a beach with a sloping shoreline. Leading lines can add depth and interest to your photos.
Stroll Around Your Favourite City
Start with a classic pose. Hold hands and walk together, with your backs to the camera. This not only symbolizes your journey together but also showcases the city's architecture in the background. The candid smiles and shared glances will add warmth to your photos.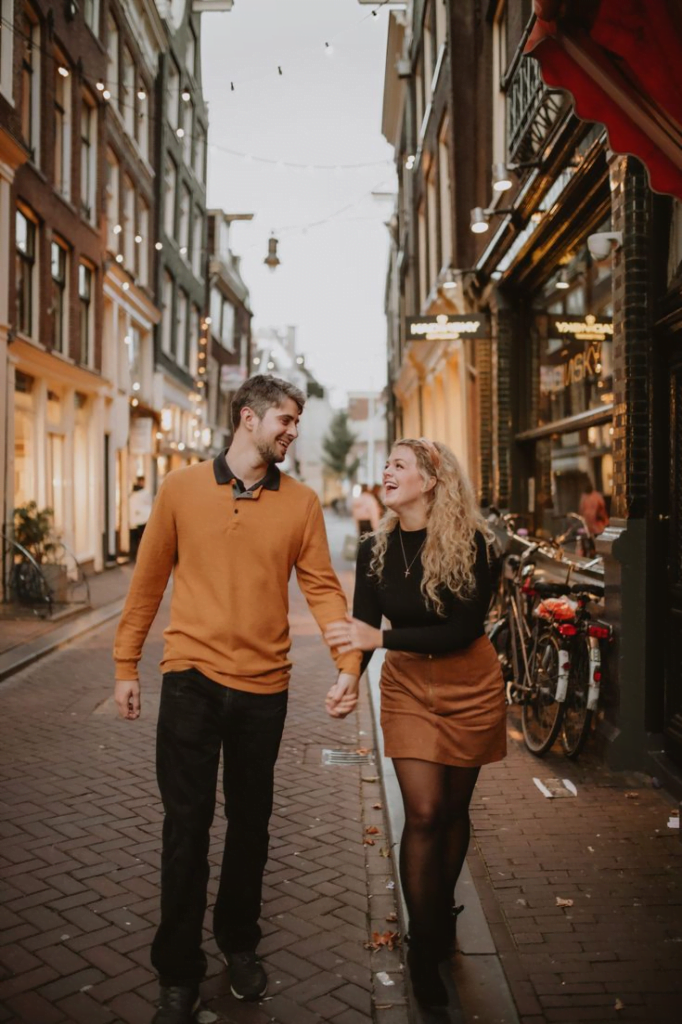 If you have access to a rooftop with a stunning city view, it's the perfect spot for a romantic photoshoot. Capture the two of you enjoying each other's company with the city's skyline as your backdrop.