Your wedding day is one of the most significant and special days of your life, and finding the perfect attire to make you feel like a queen is crucial. While many brides opt for traditional wedding gowns, a bridal saree can be a stunning and unique choice for those who want to embrace their cultural heritage or simply stand out on their big day.
Kanjeevaram Saree Pleats Pairing With A Kamarbandh
The wedding day is a momentous occasion in a woman's life, and South Indian brides are known for their timeless beauty and rich cultural heritage. One of the most integral elements of a South Indian bride's attire is the Kanjeevaram saree. These sarees, woven with pure silk and adorned with intricate zari work, are a symbol of opulence and tradition. To elevate the South Indian bridal saree draping style, adding a kamarband, or waistbelt, can be a beautiful and impactful choice.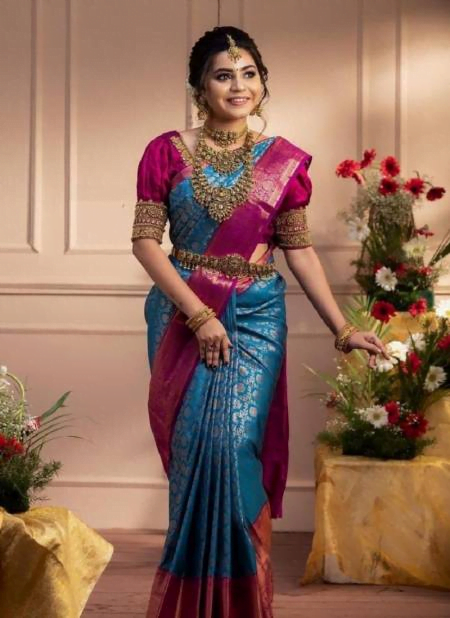 Kanjeevaram sarees, also known as Kanchipuram sarees, hail from the city of Kanchipuram in Tamil Nadu. These sarees are renowned for their rich silk fabric, vibrant colors, and intricate patterns. The combination of fine silk and gold or silver zari work gives Kanjeevaram sarees a luxurious look, making them a top choice for South Indian brides.
The Pattu Half Saree Draping Style Ideas
The Pattu half saree, also known as Pattu Pavadai or Langa Voni, is a traditional South Indian ensemble that exudes elegance and grace. It consists of a skirt, blouse, and a flowing drape. When it comes to draping this exquisite attire, there are several styles to choose from, each adding a unique charm to your appearance.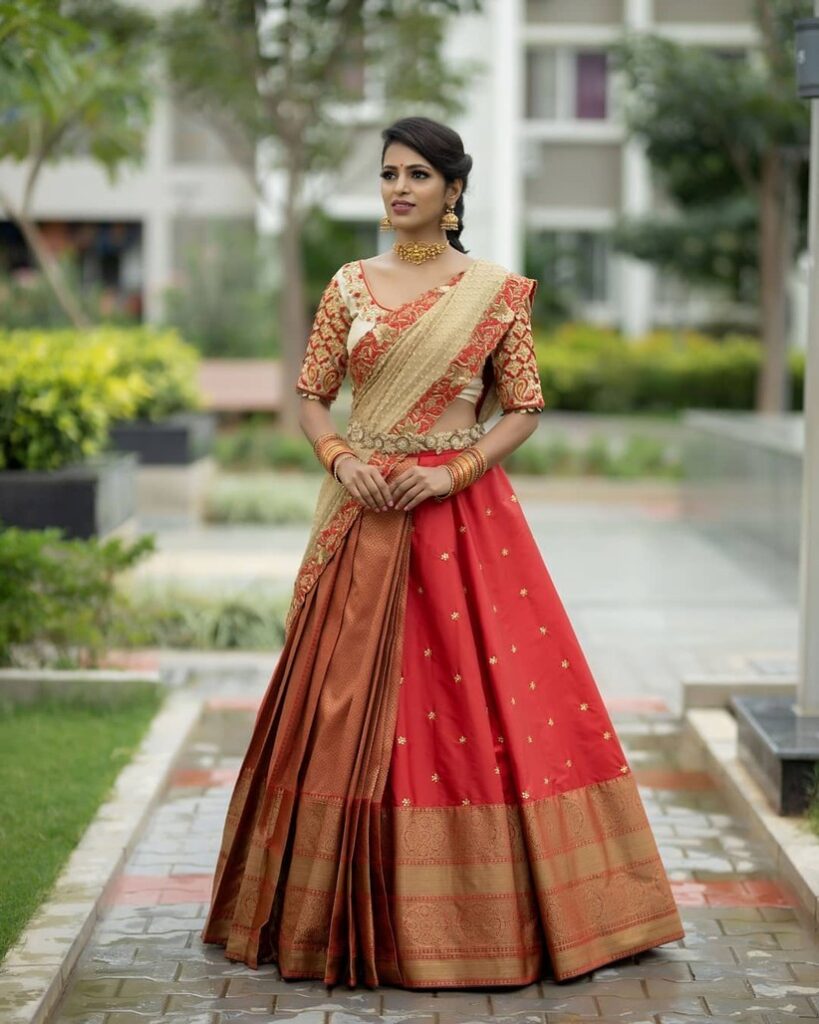 The Pattu half saree is a timeless attire that allows for a variety of draping styles to suit your personal taste and the occasion. Whether you prefer a classic Nivi style or a modern Butterfly style, each draping technique has its unique charm. Experiment with these draping styles to create your signature look and embrace the rich South Indian heritage with grace and elegance.
The Falling Pallu Draping Styles
The Kanjivaram saree is a timeless classic in South Indian bridal wear. To drape this saree with a Falling Pallu, start by pleating the saree from the other end, allowing the pallu to fall gracefully over your shoulder. Pin it in place to secure the drape, and let the rich motifs and borders of the saree shine.
South Indian bridal sarees are known for their exquisite designs, rich colors, and intricate craftsmanship. When it comes to draping a South Indian bridal saree, one of the most elegant and traditional styles is the "Falling Pallu" drape. This style of draping the saree showcases the beauty of the saree's pallu by letting it gracefully cascade down the front of the blouse.
Long Veil Draping Style
The traditional long veil drape is a classic choice for South Indian brides. It involves draping the saree in a graceful manner, allowing the pallu to flow down the back, creating a stunning train-like effect. This style is ideal for brides who want a timeless and regal appearance.
The butterfly style veil drape is a contemporary twist on the traditional drape. In this style, the pallu is spread out like butterfly wings, giving a unique and fashionable look. Brides who want to add a modern touch to their traditional attire can opt for this style. The Kanjivaram Kattam veil drape is a regional favorite and is popular among South Indian brides. It involves neatly pleating the pallu and pinning it elegantly over the shoulder, showcasing the intricate design of the Kanjivaram saree. This style is perfect for showcasing the exquisite silk work.