Creating beautiful and unique wedding invitations is an essential part of setting the tone for your special day. Typography plays a significant role in conveying the style, theme, and personality of the wedding. Consider featuring hand-lettered invitations, which add a personal touch to your wedding. Hand-lettering can be elegant, whimsical, or rustic, depending on the style you want to convey.
Watercolour Galore
Watercolor invitations offer a wide range of possibilities when it comes to personalization. You can choose from an array of colors, styles, and motifs to match your wedding theme and your unique personalities. Whether you want a soft and romantic pastel palette or a vibrant and bold design, watercolors can bring your vision to life.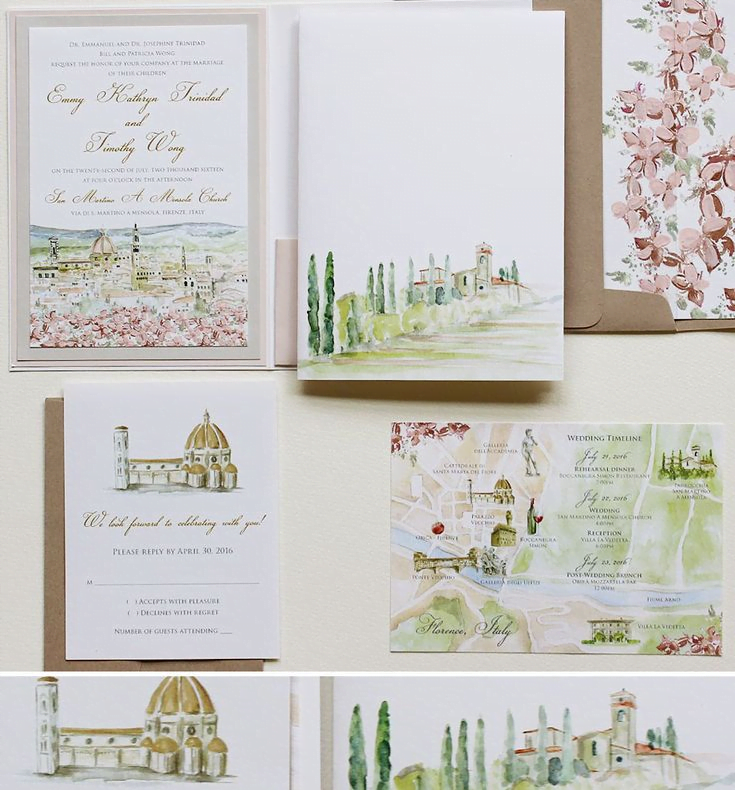 Watercolor wedding invitations are a stunning choice for couples who want to make a lasting impression on their guests. They are not only a visual delight but also a reflection of your personality and love story. With endless design possibilities and printing options, you can create a one-of-a-kind invitation suite that sets the stage for your beautiful wedding celebration.
All That Glitters Is Gold Foil
Gold has long been associated with luxury, wealth, and sophistication. It's a color that signifies class and timeless beauty. Gold foil is a specialized printing technique that allows you to incorporate this regal color into your wedding invitations. When combined with high-quality paper, the result is stunning, and your invitations will truly shine.
Your wedding invitations are more than just pieces of paper. They are the first glimpse your guests get into the style and theme of your wedding. Gold foil wedding invitations make a lasting impression, setting the stage for what's to come. Whether your wedding is a grand affair in a historic mansion or an intimate gathering on a picturesque beach, gold foil adds a touch of opulence that suits any venue.
Illustrated Invite With A Singaporean Background
Your wedding day is a celebration of love and a reflection of your unique journey together. If you have a connection to Singapore or want to infuse your wedding invitations with Singaporean culture, you're in for a treat. In this blog post, we'll guide you through the process of creating illustrated wedding invitations that beautifully capture the essence of Singapore, whether you're getting married in this picturesque country or simply want to pay homage to its rich heritage.
Creating a wedding invitation with a Singaporean background is a beautiful way to celebrate your love and heritage. By incorporating the vibrant culture, iconic landmarks, and traditional elements of Singapore, your guests will receive an invitation that is not only visually stunning but also a reflection of your unique connection to this incredible country. Your wedding day will be a blend of love, culture, and elegance, just like your beautiful invitations.
Raja Ravi Varma Inspired Invitation
Begin by selecting a color palette reminiscent of Raja Ravi Varma's paintings. Earthy tones, rich reds, deep blues, and soft pastels can create a vintage and royal feel. Choose an iconic Ravi Varma painting that resonates with you and your partner. Popular choices include "Damayanti and the swan," "Shakuntala," or "Lady in Moonlight." These images can be incorporated into your invitation as the focal point or as background elements. Select elegant, vintage fonts that match the style of the artist's era. This can add a touch of authenticity to your design.
Creating Raja Ravi Varma-inspired wedding invitations and documenting the process in a blog post can be a unique and culturally rich way to announce your special day while paying homage to one of India's greatest artists. Your blog post will not only inspire others but also serve as a cherished memory of your wedding preparations.
Floral Pink Boxed Wedding Invitation
To make your floral pink boxed wedding invitation truly special, consider adding a personal touch. Handwrite a heartfelt note or add a custom wax seal to the outside of the box for an extra layer of elegance. Be sure to double-check that all the necessary information is included and that your invitation looks stunning.
As your guests receive these gorgeous invitations, they'll be eagerly anticipating your big day. The thought and effort you put into your floral pink boxed wedding invitations will undoubtedly leave a lasting impression and set the tone for a romantic and memorable celebration.