Set the tone for the ceremonies with a wooden mandap adorned with marigold flowers, hanging drapes, and traditional Indian motifs. The mandap can be a central focal point for the rituals and can be customized to match your color theme. Opt for wooden benches, low stools, or rustic chairs for seating arrangements. You can decorate them with colorful cushions, embroidered fabrics, or floral arrangements. Wooden seating not only adds to the overall aesthetics but also provides a comfortable and traditional seating option for guests.
Backdrop
Start by inspecting the crates for any rough edges or splinters. Use sandpaper to smooth out the surfaces, making them safe and ready for painting. Choose your desired paint or stain color. For a rustic look, you can use a distressed painting technique. Apply even coats of paint or stain and let each coat dry before applying the next one. You may need 2-3 coats for full coverage. Once the paint or stain is dry, it's time to add decorative elements. You can wrap twine or ribbon around the handles or edges of the crates.
If you have multiple crates, you can secure them together to create a multi-level display. Use a screwdriver and screws to attach them securely. Alternatively, you can leave them separate for a more versatile arrangement. Fill the crates with items that fit your Haldi and Mehendi ceremony theme. This could include fresh or artificial flowers, haldi and mehendi cones, candles, or any other decorative pieces you like.
Entrance
Set up a well-ventilated area for your project, ideally outdoors or in a garage. Lay down a drop cloth to protect surfaces from paint or stain.
Start by lightly sanding the crates with medium-grit sandpaper. This will help remove any rough edges and prepare the surface for staining or painting. Follow up with fine-grit sandpaper to achieve a smoother finish.

Once the crates are sanded, you can either stain them for a natural wood look or paint them in your chosen color. Apply a thin, even coat and allow it to dry completely. Depending on the product you choose, you may need to apply multiple coats for the desired effect.
Decor Display
If your crates are rough or have splinters, start by sanding them down to create a smooth surface. Decide whether you want to stain or paint the crates. Staining will maintain the wood's natural look, while paint allows for more color customization. Apply a few coats as needed for the desired effect. Allow the crates to dry completely between coats to ensure a smooth and even finish. This may take a few hours, depending on the type of finish you choose.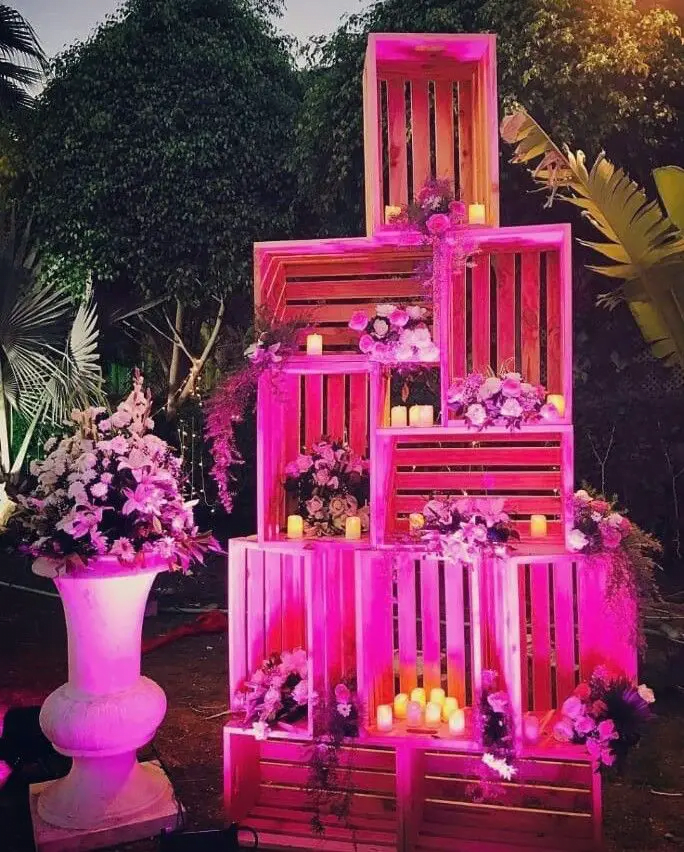 Place the decorated wooden crates in the desired location for your Haldi and Mehendi ceremony. They can be used to display gifts, favors, snacks, or any other decorative items you'd like to showcase. Don't forget to add the actual Haldi and Mehendi elements to your setup, like bowls for the Haldi paste, mehendi cones, and other essential items. Ensure your photographer captures the wooden crates in your ceremony photos. They make for lovely backdrops and add a personal touch to your wedding memories.