Your wedding day is one of the most memorable moments in your life, and your hairstyle plays a crucial role in making you look and feel your best. Whether you're going for a classic, romantic, or bohemian vibe, the right bridal hairstyle can elevate your entire bridal look.
Opt for a Nice Braid
Fishtail braids are a chic and versatile choice for brides. This intricate braid adds a touch of bohemian flair to your wedding look. Opt for a slightly messy fishtail for a relaxed, beachy vibe, or go for a sleek and polished fishtail for a more sophisticated feel. The waterfall braid creates a cascade of intertwined strands that looks simply enchanting. This romantic style is perfect for brides who want to showcase their long, flowing locks. It's an ideal choice for garden or beach weddings.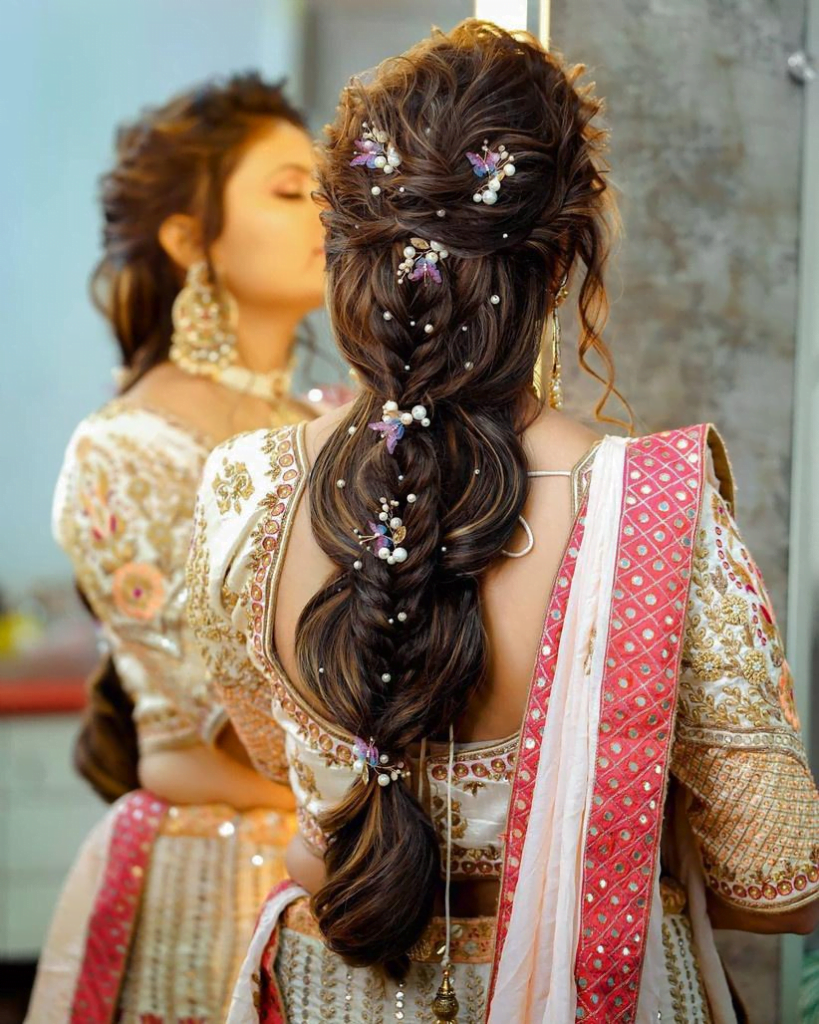 For a fairytale-inspired bridal look, consider the crown braid. This ethereal style encircles your head like a halo and can be adorned with delicate flowers or hairpins for a touch of elegance. It's a fantastic choice for both short and long hair. If you're planning a rustic or bohemian-themed wedding, a loose and messy side braid is a great option. Add some baby's breath or small wildflowers for an extra touch of charm.
Bun for a Chic Look
Before you start styling, it's essential to prepare your hair to ensure that your braid and bun hold up throughout the day. Clean and dry hair provides the best foundation for this chic bridal hairstyle. Consider washing your hair the night before and using a lightweight conditioner to keep your locks manageable.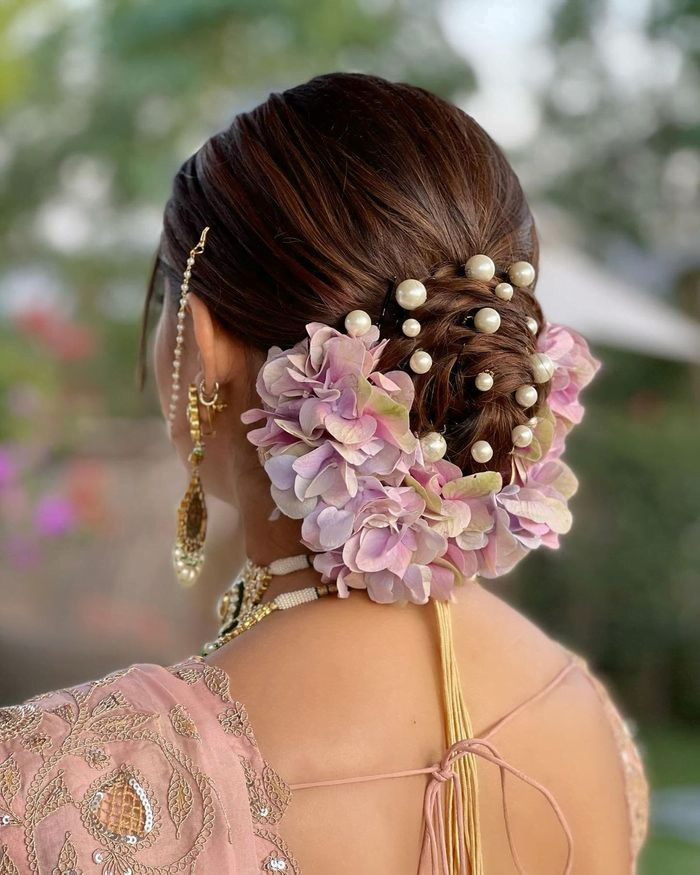 A braid and bun bridal hairstyle combines the sophistication of a bun with the charm of braids, creating a chic and timeless look perfect for your wedding day. Whether you're the bride or a bridesmaid, this versatile hairstyle is sure to turn heads and leave a lasting impression. With the right preparation and a bit of creativity, you can achieve the perfect bridal hairstyle that complements your overall bridal ensemble.
Half Tied Hairdo for the Win
Start with a traditional French braid, but add a modern twist by pulling out a few strands to create a softer, romantic look. This style is perfect for brides who want a timeless yet unique hairstyle. Create a cascading waterfall braid that wraps around your head like a crown. It's an enchanting choice that will make you feel like royalty. The fishtail braid is a trendy and intricate option that adds a touch of bohemian charm to your bridal look. It's ideal for outdoor or rustic-themed weddings.
Remember to consult with a professional hairstylist who specializes in bridal hair to bring your chosen braid bridal hairstyle to life. They can help you tailor the style to suit your dress, theme, and personal preferences, ensuring you look and feel your absolute best on your wedding day.
Ponytail for a Stylish Look
Before diving into the hairstyle, ensure that your hair is in the best possible condition. This includes regular hair care routines, such as deep conditioning, trimming split ends, and addressing any specific concerns like frizz or dryness. Healthy hair is the foundation for a beautiful bridal hairstyle.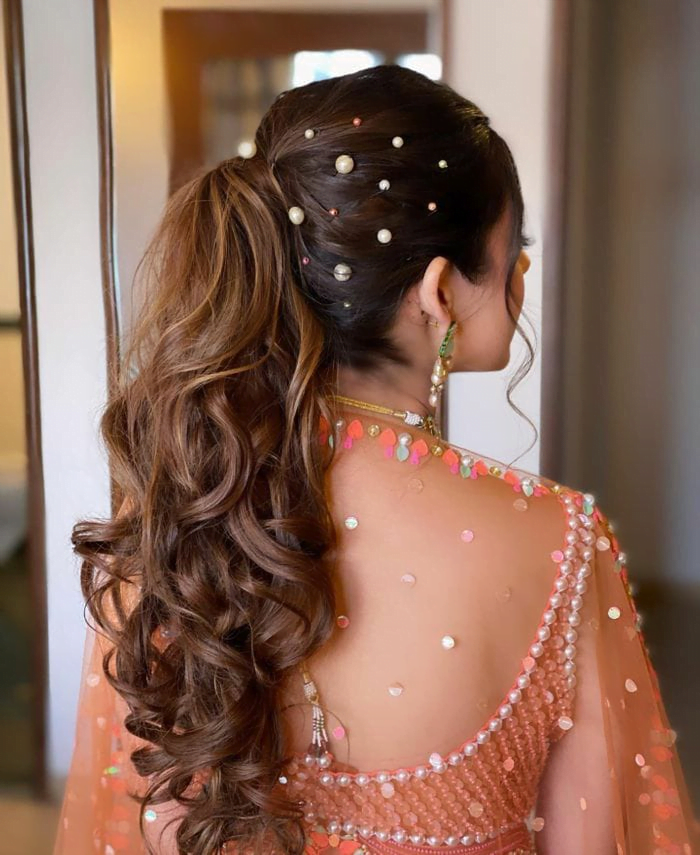 The ponytail braid bridal hairstyle combines the classic charm of a ponytail with the intricate beauty of a braid, making it a perfect choice for modern brides. It's a versatile and elegant option that can be customized to suit your unique style and wedding theme. Remember to schedule a trial run with your stylist, choose the right accessories, and take good care of your hair in the lead-up to your special day.
Classic Open Hair
The fishtail braid is a stunning and intricate choice. It's a modern take on the classic braid, with a touch of elegance and romance. You can leave some loose strands for a soft, bohemian look or make it sleek and polished for a more formal vibe. The waterfall braid is a whimsical and ethereal choice. It involves creating a cascading effect with your braid, allowing strands to fall loosely as if they were a waterfall. This style is perfect for an outdoor or garden wedding.
Enhance your open hair braid with delicate flowers intertwined within the braid. This creates a natural, earthy, and enchanting look that's perfect for a rustic or boho-themed wedding. For a regal and fairy tale-inspired look, consider a braided crown. This style wraps around the top of your head like a tiara and adds a touch of elegance to your overall bridal appearance.