The Mehendi ceremony is a cherished pre-wedding ritual in Indian culture, filled with joy, vibrant colors, and traditional rituals. Among the many elements that make a Mehendi ceremony special, the decor plays a significant role. If you're planning a Mehendi celebration and want to infuse a sense of romance and elegance, consider the color pink. Pink is often associated with love and celebration, making it an ideal choice for Mehendi decor.
Pink Backdrops for the Win
Mehendi, the pre-wedding celebration filled with color, culture, and joy, deserves stunning decor that sets the perfect ambiance. Among the various elements of Mehendi decor, the backdrop is often the focal point, where the bride-to-be and guests can capture beautiful moments.
Describe the charm of using pink flower backdrops. Discuss various floral arrangements, from traditional marigold to contemporary roses and peonies. Explore the use of pink fabric drapes in creating a stunning backdrop. Talk about different fabrics, like chiffon and silk, and how they can be used to drape walls or frames. on traditional elements like Rajasthani umbrellas or phulkari work into pink backdrops. Explain how these elements add authenticity and charm.
Pink Bar Decor
Decorate your mehendi or bar area with lush pink floral arrangements. Use flowers like roses, peonies, and carnations to create stunning centerpieces, garlands, and bouquets. You can even add fairy lights to make them twinkle in the evening, creating a romantic atmosphere.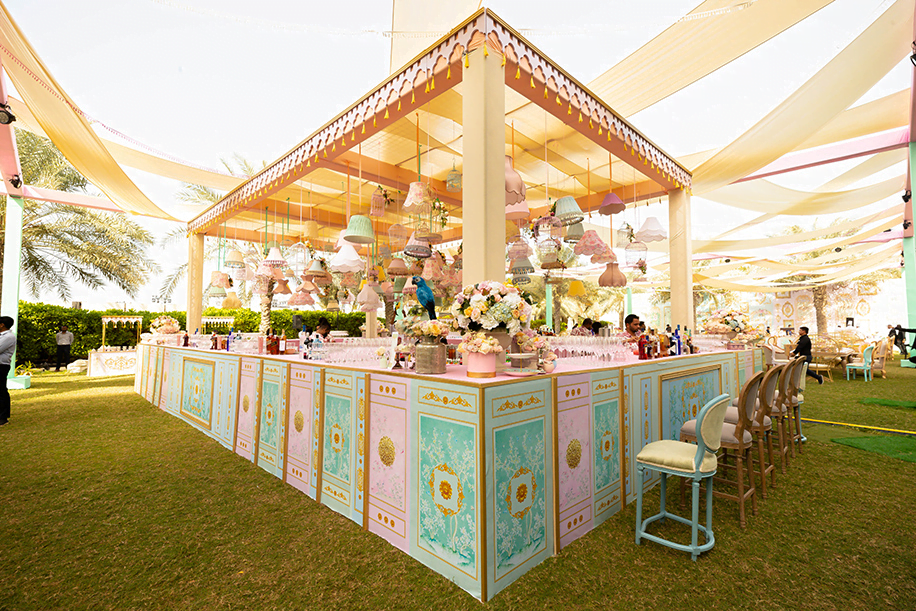 Cover your seating and tables with pink drapes and fabrics to infuse the entire space with the color. Mix different shades of pink to add depth and interest to the decor. You can also use pink sheer curtains for a dreamy and whimsical touch.
Pink Drapes
Mehendi is a joyous occasion filled with vibrant colors and festivities. One way to infuse that lively spirit into your Mehendi decor is by incorporating pink drapes. Pink is a versatile color that can create a beautiful backdrop for your celebration.
Transform the traditional Mehendi seating area by using pink drapes to create a stunning canopy. Hang pink fabric in various shades to add depth and dimension. You can also add floral garlands and fairy lights for an enchanting touch.
Pink Seating
Begin with the mehendi seating area, where the bride and groom can hold court. Think about adorning the seating with ornate pink peacock-inspired thrones, complete with colorful cushions and floral accents. The peacock motif symbolizes grace and beauty, making it a perfect addition to your decor.
Embrace the traditional charm of low seating arrangements. Think about floor cushions and poufs in various shades of pink, adorned with sequins and mirrors to add some sparkle. These cozy seating options create an intimate atmosphere, encouraging guests to relax and enjoy the festivities.
Pink Elements
Set up a beautiful floral canopy with pink flowers like roses, peonies, and cherry blossoms. Hang pink drapes and fairy lights to create a dreamy ambiance. Use pink silk or chiffon drapes to cover the ceiling and walls. Draped fabrics add a sense of luxury and create a soft, inviting atmosphere. Line the walkway to the mehendi stage with a carpet of fresh pink rose petals. It's a simple yet elegant way to infuse pink into your decor.
Place pink cushions on low seating arrangements. Mix and match shades of pink to create a visually appealing seating area. Hang pink paper lanterns from the ceiling to create a whimsical effect. You can even add LED lights inside for an enchanting glow in the evening. Incorporate pink into the traditional rangoli designs at the entrance of the venue. You can use colored rice or flower petals to create intricate patterns.