Start with a classic and refreshing choice – mango sorbet. It's a simple yet elegant option for a warm-weather wedding. To make it, you'll need ripe mangoes, sugar, and a bit of lime juice. Blend the ingredients, churn them in an ice cream maker, and you'll have a creamy, dairy-free treat that's sure to please.
Creamy Mango Pudding
Planning a wedding is an exciting and memorable journey, and ensuring that all of your guests, including those with dietary restrictions, can enjoy the celebration is essential. If you have vegan guests attending your wedding, it's a wonderful opportunity to impress them with a delightful dessert spread. Mango desserts, known for their vibrant flavors and tropical charm, are a fantastic choice.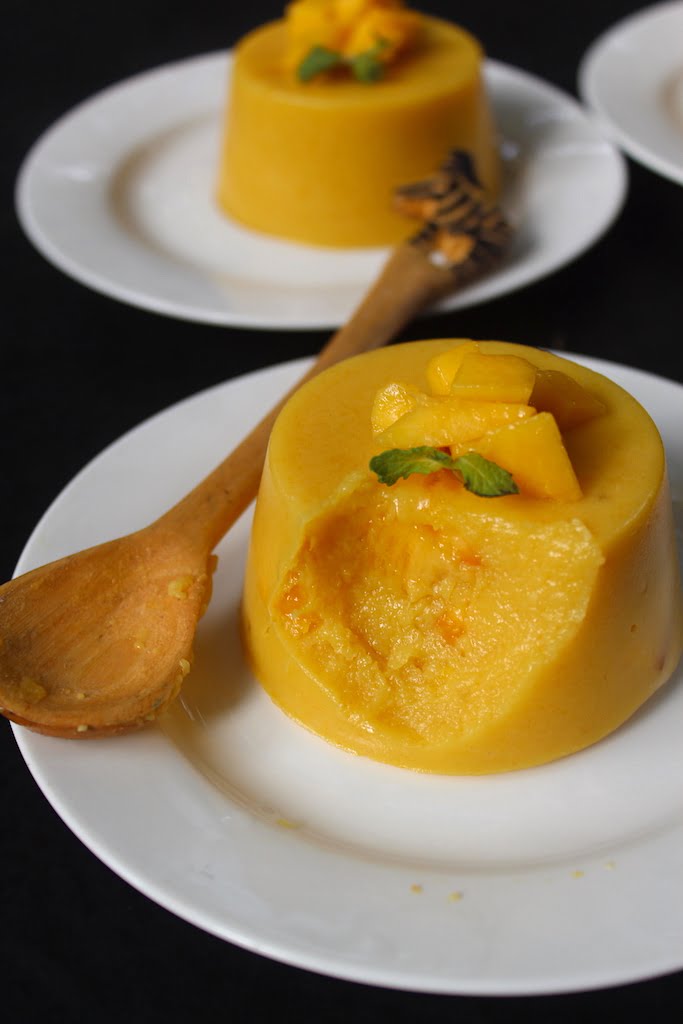 Mango pudding is a beloved dessert that hails from Hong Kong, where it's a staple in many restaurants and households. This delightful sweet treat has made its way into international cuisine, winning the hearts of dessert lovers worldwide. Mango pudding is loved for its silky texture, vibrant flavor, and its ability to capture the essence of tropical paradise in each bite.
Refreshing Mango Mousse
For a wedding dessert that's as beautiful as it is delicious, consider a mango mousse cake. Layers of sponge cake are generously filled with mango mousse, creating a delightful contrast of textures. Finish it off with a mirror glaze or a delicate fondant decoration to match your wedding theme.
Individual mango mousse parfaits are perfect for weddings. Layer mango mousse with pieces of sponge cake or crumbled cookies for a delightful dessert experience. Add fresh berries or a drizzle of passion fruit coulis for a pop of color and a hint of tartness.
Bite-Sized Mango Tart
Mango tarts are not only delicious but also visually stunning. Their vibrant orange hue can be incorporated into your wedding's color palette. Consider using mango-colored accents in your decor, such as tablecloths, napkins, or flower arrangements, to create a cohesive and inviting atmosphere.
Presentation is key when serving bite-sized mango tarts at your wedding. You can have them elegantly displayed on a tiered dessert table, offering your guests an array of options to choose from. Decorate with edible flowers, mint leaves, or a dusting of powdered sugar for an extra touch of sophistication.
Fresh Mango Cake
Mango mousse cake is a light and airy option that's perfect for warm-weather weddings. The smooth and creamy mango mousse pairs beautifully with a sponge cake base. Top it off with fresh mango slices and a drizzle of passion fruit sauce for an extra burst of flavor. It's an elegant choice that will delight your guests"
For a more interactive dessert experience, serve mini mango tarts at your wedding. These bite-sized treats feature a buttery crust filled with mango custard and topped with a slice of ripe mango. They are not only delicious but also visually appealing, making them a great addition to your dessert table.
Flavorful Mango Cheesecake
For an elegant and individualized touch, opt for mini mango cheesecake tarts. These bite-sized delights combine a buttery tart shell with a mango-infused cheesecake filling. Garnish each tart with a dollop of whipped cream and a tiny mango cube for a pop of color.
Mango cheesecake parfait cups are a great choice for those who prefer a lighter dessert option. Layer mango-flavored cheesecake with fresh mango cubes and crushed graham crackers to create a delightful and visually appealing dessert.