Why let the bride steal all the attention at the wedding when you, the groom, can look equally stunning? With modern designs incorporated along with traditional styles, men have a plethora of options to look their best on the big day. From voguish sherwani designs to dapper tuxedos, there are a bunch of patterns that men can choose from for their summer wedding dresses.
1. Anarkali Sherwani
If you're looking for an outfit that's both traditional and stylish for a wedding, an Anarkali Sherwani could be the perfect choice. An Anarkali Sherwani is a long, flowing tunic-style garment that is typically worn by men in India.
Consider the color: Anarkali Sherwanis come in a variety of colors, so choose one that complements the wedding theme or your personal style. For a classic look, you can never go wrong with black, white, or navy blue. If you're feeling bold, try a brighter color like red or gold.
Look for quality materials: A good quality Anarkali Sherwani is made from high-quality materials like silk, cotton, or brocade. These materials will not only make you look good but also feel comfortable during the wedding festivities.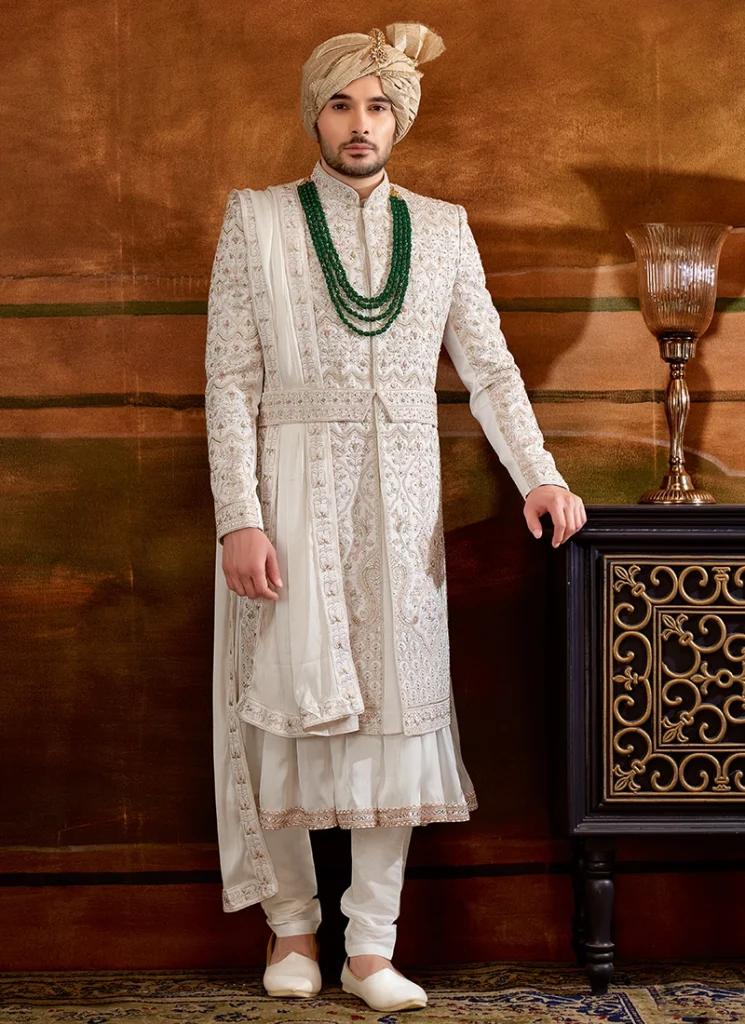 Pay attention to the embroidery: Anarkali Sherwanis are often embroidering with intricate designs, so choose one that has embroidery that suits your taste. If you prefer a more subtle look, opt for a Sherwani with minimal embroidery. If you want to make a statement, go for one with bold and intricate embroidery.
Get the right fit: Make sure that the Anarkali Sherwani fits you well. It should not be too loose or too tight. It's important to get measured before making a purchase to ensure the best fit possible.
Accessories: Don't forget to accessorize your Anarkali Sherwani with a turban or a traditional headpiece, as well as a pair of Jodhpuri shoes. These accessories will complete the look and give you an authentic feel.
2. Velvet Splendour
A sherwani is a traditional Indian garment worn by men, particularly during weddings and other formal occasions. The Velvet Splendour Sherwani is an excellent choice for grooms who want to look elegant and sophisticated on their wedding day.
In this blog post, we'll take a closer look at the features and benefits of the Velvet Splendour Sherwani. The Velvet Splendour sherwani is made from high-quality velvet fabric that is soft to the touch and has a luxurious feel. Velvet is a popular choice for formal wear because of its rich texture and smooth finish. The sherwani is available in a range of colors, including deep red, navy blue, black, and gold, to suit different tastes and preferences.
3. Straight Sherwani
A sherwani is a traditional Indian outfit that is typically worn by men for special occasions such as weddings. It is a long coat-like garment that is paired with a churidar or a dhoti. A straight sherwani is a modern take on the classic sherwani style, with a straight cut and minimal embellishments.
Choose the right fabric: The fabric of your sherwani can make or break your outfit. Opt for rich fabrics such as silk, brocade, velvet, or raw silk for an elegant and sophisticate look.
Pick the right color: While the classic colors for a sherwani are gold, maroon, and ivory, you can experiment with different hues such as navy, black, or grey. Choose a color that complements your skin tone and fits the overall wedding color scheme.
Keep the embellishments minimal: A straight sherwani is all about simplicity and elegance. Avoid heavy embroidery and opt for subtle embellishments such as buttons, piping, or a contrast-colored collar.
Accessorize wisely: A simple sherwani can be elevat with the right accessories. Add a statement brooch, a pocket square, or a turban to complete your look
Ensure a perfect fit: The key to looking sharp in a sherwani is to get the fit right. Make sure that your sherwani is tailor to your measurements and fits you perfectly.
4. Short Sherwani
If you're looking for a sophisticat yet comfortable outfit for a wedding, a short sherwani could be the perfect choice. Sherwani is a traditional Indian outfit that is often worn by grooms during weddings.
Choose the right fabric: Since you'll be wearing the sherwani for a long time, it's important to choose a fabric that is comfortable and breathable. Some popular options include silk, cotton, and linen.
Select the right color: The color of your sherwani should complement the overall color scheme of the wedding. If you're not sure what color to choose, you can't go wrong with classic colors like black, white, or beige.
Accessorize appropriately: Accessorize your short sherwani with a pair of jutti shoes or sandals. Add a turban or a dupatta for a more traditional look. You can also wear a brooch or a pocket square to add some personality to your outfit.
Get the right fit: It's important that your sherwani fits you perfectly. Make sure to get it tailored to your measurements for a comfortable and flattering look.
Style with confidence: The key to rocking a short sherwani is to wear it with confidence. Stand tall and own your outfit. After all, weddings are all about celebrating love and having a good time.
5. Dhoti Kurta Style Sherwani
Dhoti kurta-style sherwani is a popular wedding attire for men in India. It combines the traditional dhoti kurta with the regal look of a sherwani, creating a unique and elegant ensemble that is perfect for the groom and his groomsmen.
To create the dhoti kurta style sherwani, the dhoti is first drape around the waist and legs in the traditional manner. The kurta is then worn over it, with the length of the kurta reaching just above the knee. The sherwani is then worn over the kurta, with the length of the sherwani extending to the ankle. The sherwani is usually buttoned up to the collar and is often paired with a turban or a safe, which is a traditional headgear worn by men in India.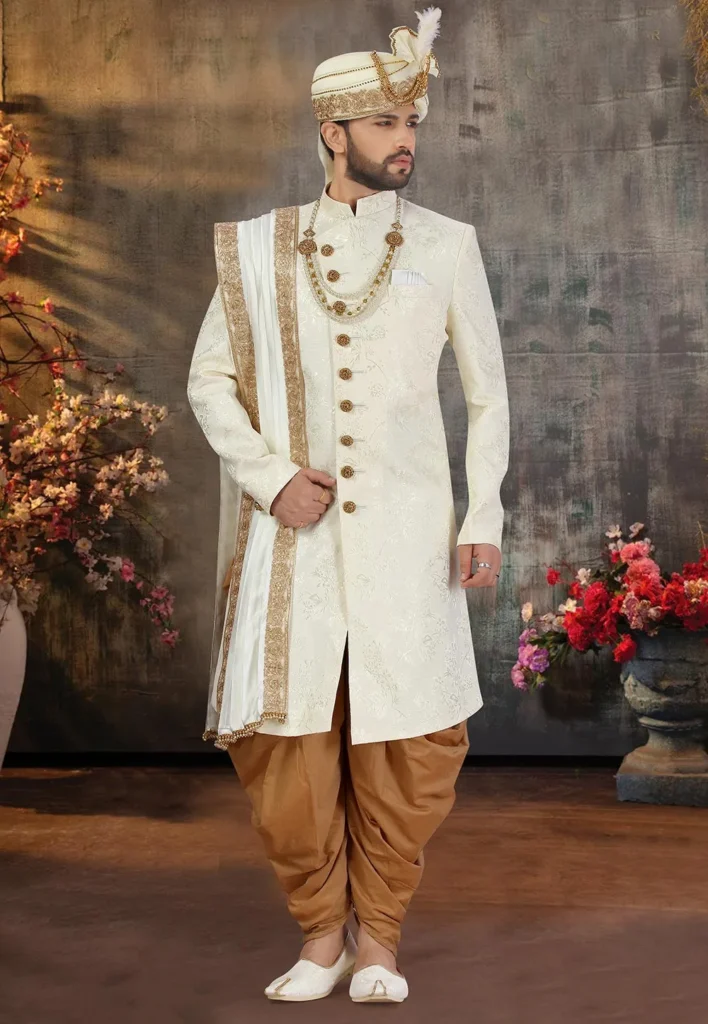 This attire is usually made of rich fabrics like silk, velvet, or brocade, and is often embellish with intricate embroidery, beads, and sequins. The colors us in dhoti kurta style sherwanis are usually deep and vibrant, such as maroon, red, gold, or royal blue, and are often paired with a contrasting-colored dupatta, which is a long scarf worn over the shoulders.
Furthermore, with designers creating a wide and trending range of Indian wedding dresses for men in summer, grooms cannot complain about not having enough options anymore! The fetch for an Indian wedding dress for a groom in the summer season should always hit the bar of trend and comfort. Intricate embroideries on jackets, the addition of cowls, hemline designs, and please groom sherwanis are just a few of the innumerable designs that designers around the country are working on. If you are that groom-to-be who loves to go with the flowing trend, then you have hit the right place!