Rajasthan, the land of kings, is renowned for its vibrant culture, majestic forts, and delectable cuisine. When it comes to planning your wedding menu, incorporating Rajasthani dishes can add a touch of regal charm and an explosion of flavors. From the spicy and aromatic curries to the delectable sweets, Rajasthani cuisine offers a wide range of culinary delights that will leave your guests wanting more. In this blog post, we present a selection of mouthwatering Rajasthani dishes that are perfect for your wedding menu.
Daal Baati Churma
When it comes to Indian weddings, the rich cultural tapestry of flavors and culinary delights takes center stage. Among the myriad of traditional dishes, one culinary masterpiece stands out for its rustic charm and delectable taste: Daal Baati Churma. This iconic Rajasthani dish has become synonymous with celebrations, especially weddings, and continues to captivate taste buds with its unique blend of lentils, bake wheat bread, and sweetened wheat crumbs. Join us as we delve into the delightful world of Daal Baati Churma and explore its significance in Indian wedding festivities.
Daal Baati Churma traces its roots to the royal state of Rajasthan, known for its vibrant culture and sumptuous cuisine. This traditional dish holds immense cultural significance and is an integral part of Rajasthani weddings. It showcases the rich culinary heritage of the region and is prepare with love and care to honor the couple and their families. The process of making Daal Baati Churma involves a harmonious blend of flavors, making it a must-have on every wedding menu.
Gatte Ki Sabzi
Gatte Ki Sabzi originates from the colorful state of Rajasthan in India. Rajasthan's cuisine is known for its bold flavors and creative use of ingredients. This dish, in particular, showcases the resourcefulness of the Rajasthani people in creating a scrumptious vegetarian delight from simple ingredients.
The star of Gatte Ki Sabzi is the "gatte" itself, which are dumplings made from besan (gram flour) combined with aromatic spices. The sabzi (curry) is a rich and tangy gravy made with yogurt, tomatoes, and an assortment of spices such as turmeric, red chili powder, coriander powder, and more. The combination of these ingredients results in a harmonious blend of flavors that will leave your taste buds wanting more.
Preparing Gatte Ki Sabzi requires patience and skill. The process involves kneading the dough, shaping it into cylindrical rolls, and boiling them until they are cooked through. These cook rolls are then cut into bite-sized pieces and added to the flavorful tomato-yogurt gravy. The curry is simmering until the flavors meld together, creating a tantalizing aroma that will captivate your guests.
Matar Kachori
Matar Kachori traces its roots back to the vibrant land of Rajasthan, India. This delectable deep-fried pastry is traditionally stuffe with a flavorful filling of spice green peas, aromatic spices, and herbs. Symbolizing prosperity and good fortune, Matar Kachori has become an integral part of wedding feasts across various cultures and regions.
The art of making Matar Kachori requires patience, skill, and a sprinkle of love. The dough, made from all-purpose flour and a dash of ghee, is roll out into small discs. A generous spoonful of the tantalizing green pea filling is place in the center, and the dough is carefully seal to create a pocket of goodness. These delicate parcels are then deep-fried until they turn golden brown, resulting in a crispy and flaky texture that is simply irresistible.
Malai Ghewar
Malai Ghewar traces its roots back to the royal kitchens of Rajasthan, where it was traditionally prepare during special occasions and festivals. It is believe to have originate in the city of Jaipur and gradually gained popularity across the region. Over time, this sumptuous delicacy has become synonymous with celebrations, especially weddings, and is an integral part of Rajasthan's culinary heritage.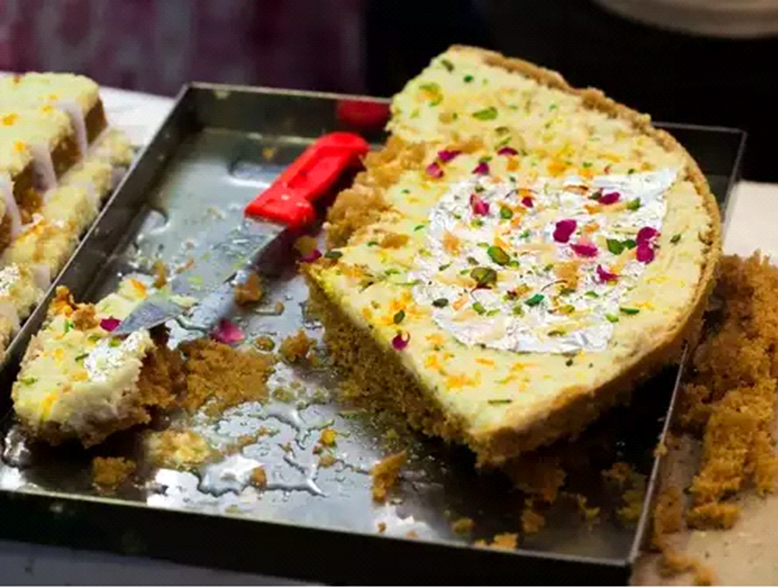 Malai Ghewar is a delicate and intricate dessert that requires skillful craftsmanship. The key component is the ghewar, a crisp, honeycomb-like disc made of a special batter that is deep-fried until golden and porous.
Balushai
Let's begin by diving into the history and cultural significance of Balushai. This delectable dessert has its roots in Indian cuisine, particularly in the states of Rajasthan and Uttar Pradesh. Traditionally prepared during festivals and auspicious occasions, Balushai symbolizes joy, prosperity, and togetherness. Its golden hue and flaky texture make it a visual delight, and its rich, sweet taste leaves an unforgettable impression.
Creating the perfect Balushai is no ordinary feat. Skilled artisans meticulously blend ghee (clarified butter), flour, and sugar to craft these golden spheres of goodness. The dough is shape into small balls, deep-fried to perfection, and then soak in fragrant sugar syrup. The result is a delicate, flaky exterior that encases a tender, syrup-infused interior.
One bite of Balushai is enough to transport you to a realm of pure delight. The crispy outer layer gives way to a melt-in-your-mouth texture, releasing a burst of sweetness that lingers on the palate.