Set the tone for your literary-themed wedding from the start with invitations that resemble vintage books. You can design your invites to look like mini novels, complete with your love story on the pages. Alternatively, choose quotes from your favorite books to capture the essence of your relationship. Floral arrangements are a wedding staple, but why not add a bookish twist? Incorporate pages from your favorite novels into your bouquet or your bridesmaids' bouquets. The juxtaposition of vibrant blooms against the text creates a visually stunning and meaningful accessory.
Pair With Bud Vases
Bud vases are small, slender containers designed to hold a single stem or a small bouquet of flowers. They come in various shapes and materials, from classic glass to vintage-inspired porcelain. Bud vases add a touch of grace and intimacy to your wedding decor, as they highlight individual blooms and allow you to showcase a variety of flowers.
Books have always held a special place in our hearts. They can represent shared interests, favorite reads, or the beginnings of a new chapter in your life. Incorporating books into your wedding decor adds a personal and nostalgic touch. You can use vintage books, old family favorites, or even books that hold special meaning to you as a couple.
Channel a Library Vibe
When it comes to planning a wedding, couples are always on the lookout for unique and personalized ideas to make their special day truly memorable. If you and your partner share a love for literature and the cozy atmosphere of libraries, we'll guide you through the steps to channel the perfect library vibe for your wedding, complete with bookish centerpieces that will leave your guests enchanted.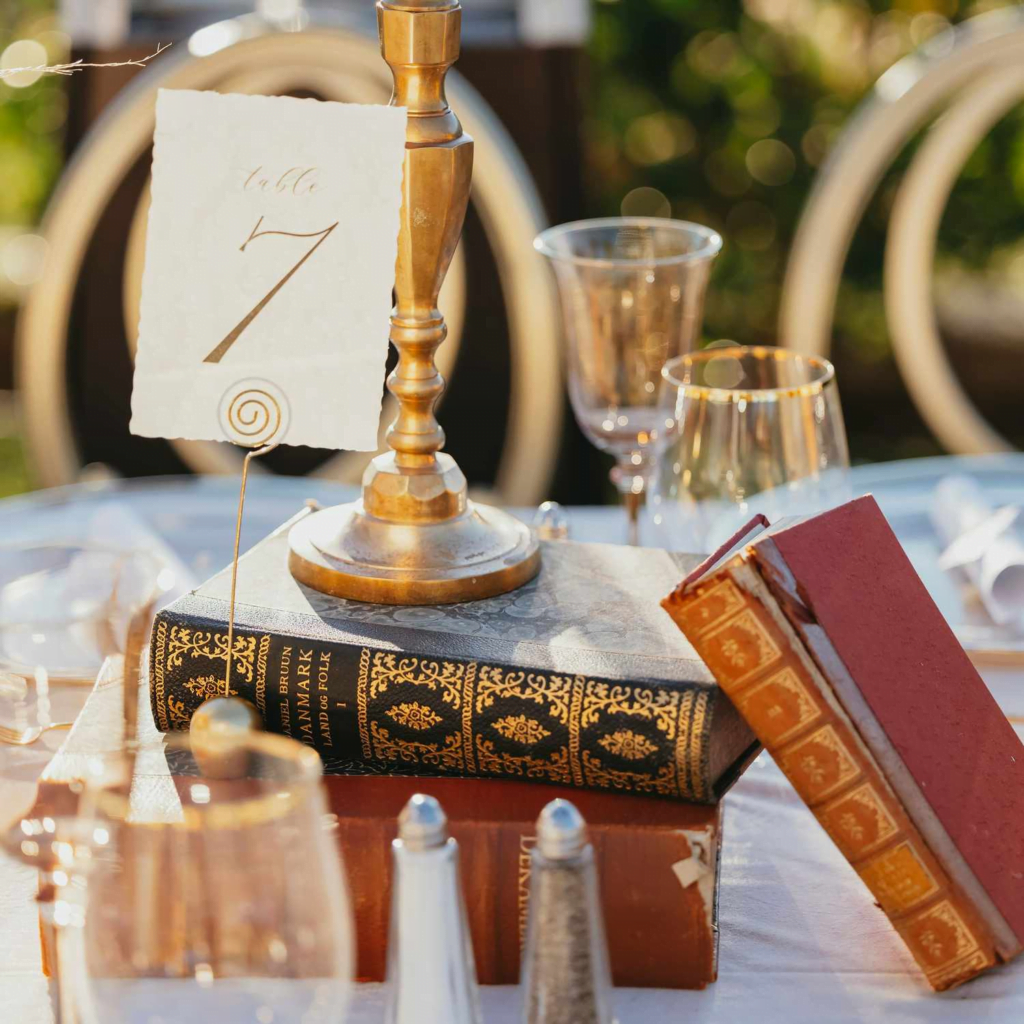 A library vibe wedding with book centerpieces is a beautiful way to celebrate your love for literature while creating a warm and inviting atmosphere for your guests. With careful planning and attention to detail, you can turn your special day into a storybook wedding that you and your loved ones will remember forever.
Play With Pops of Color
Books have an enchanting quality that transcends time. They can transport you to far-off lands, ignite your imagination, and kindle a sense of nostalgia. Incorporating books into your wedding decor not only adds a touch of literary charm but also symbolizes the chapters of your love story coming together.
To create a "Play With Pops of Color" wedding, start by selecting a vibrant color palette that complements your style and personality. Consider bold hues like royal blue, emerald green, deep purple, or rich burgundy. These colors will serve as the backdrop for your book-centric decor and bring life to your wedding venue.