When it comes to winter weddings, there's nothing quite like a steaming hot cocktail to warm the hearts and lift the spirits of your guests. From traditional favorites with a twist to unique concoctions that capture the essence of the season, we've compiled a list of creative and delicious hot cocktail ideas that will make your winter wedding celebration truly unforgettable. So, grab a cozy blanket, gather around the fire, and let's explore these delightful libations.
1. Mulled White Wine
As the snow falls and the air turns crisp, winter weddings offer a magical setting for couples to exchange their vows. These aromatic and warming beverages will add a touch of sophistication and seasonal charm to your wedding reception. In this blog post, we'll explore some creative ideas and recipes for mulled white wine hot cocktails that are sure to impress your guests and make your winter wedding even more memorable.
The classic mulled wine recipe can be adapted using white wine for a lighter and fruitier twist. Start with a dry or semi-dry white wine and infuse it with a combination of spices like cinnamon sticks, star anise, cloves, and citrus peel. Sweeten to taste with honey or sugar, and let the flavors meld together over low heat. Serve warm in elegant glass mugs, garnished with a cinnamon stick or a slice of orange.
Elevate your mulled white wine hot cocktail by incorporating unique winter spices. Consider adding cardamom pods, ginger slices, and a pinch of nutmeg to the mix. These spices will create a rich and aromatic blend, perfect for warming your guests' hearts on a cold winter night.
2. Pimm's Winter Cup
Planning a winter wedding comes with its own charm and unique opportunities to create a cozy and memorable experience for your guests. One way to add a touch of warmth and sophistication to your special day is by serving a delightful hot cocktail. And what better choice than a Pimm's Winter Cup hot cocktail? Combining the beloved Pimm's liqueur with seasonal flavors, this drink will surely elevate your winter wedding celebration. In this blog post, we'll share a delicious recipe and some creative ideas to incorporate this delightful beverage into your wedding reception.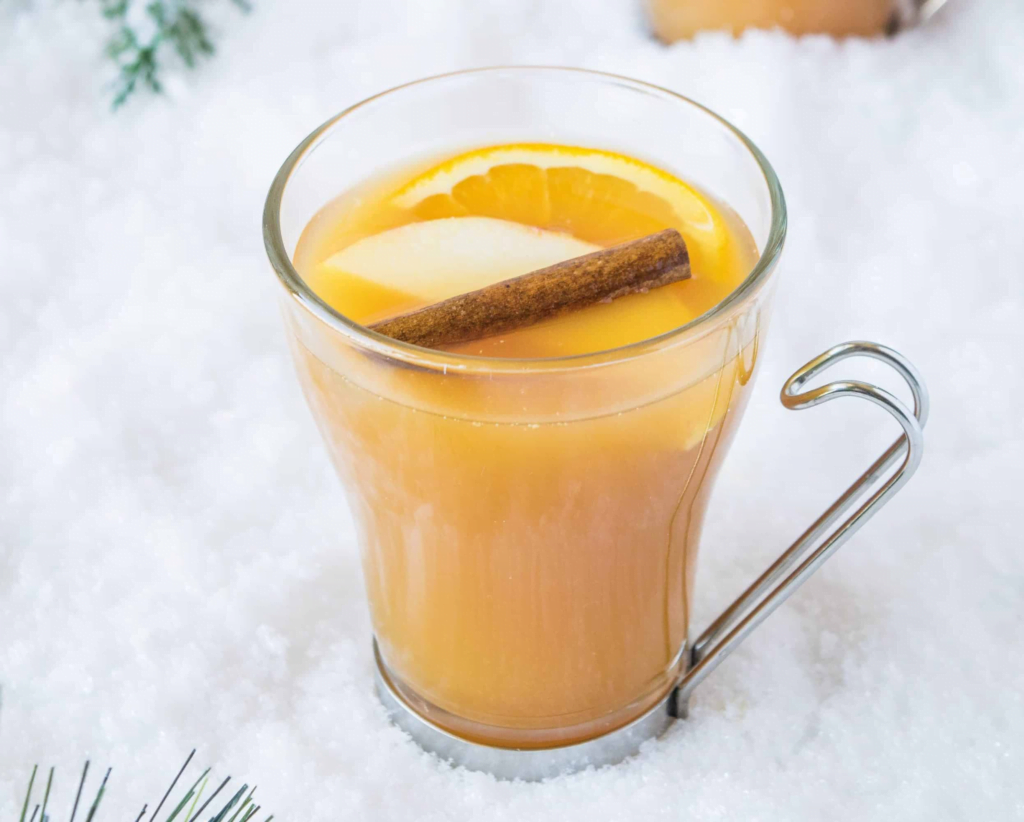 By incorporating a Pimm's Winter Cup hot cocktail into your winter wedding celebration, you'll infuse your special day with warmth and flavor. This delightful drink will undoubtedly be a hit among your guests, providing them with a comforting and sophisticated experience. Whether you choose to make it a signature drink, set up a hot cocktail bar, or present it as a warm welcome drink, the Pimm's Winter Cup hot cocktail will add an extra touch of charm to your winter wedding festivities. Cheers to a memorable celebration filled with love and delightful flavors!
3. Spiced Hot Buttered Rum
A winter wedding is a magical affair filled with cozy moments and heartfelt celebrations. Look no further than the classic Spiced Hot Buttered Rum cocktail. With its rich flavors and inviting aroma, this cocktail is the perfect addition to your winter wedding festivities. Read on to discover how to create this delectable hot beverage that will leave your guests feeling blissfully cozy and perfectly content.
Warm up your winter wedding with the delightful and comforting Spiced Hot Buttered Rum cocktail. Its aromatic spices and rich flavors will make your guests feel cozy and cherished on your special day. Personalize the drink and present it with style to create a memorable experience for everyone attending your winter wonderland celebration. Cheers to a heartwarming wedding day filled with love, joy, and delicious drinks!
4.Spanish Coffee
As the winter season casts its magical spell, there's something undeniably romantic about tying the knot in a winter wonderland. To make your winter wedding truly memorable, why not treat your guests to a delightful and warming beverage? Introducing "Caliente de Café," a Spanish-inspired hot cocktail that combines the rich flavors of coffee, spirits, and spices. Read on to discover how to incorporate this delightful hot cocktail into your winter wedding festivities.
A winter wedding calls for special touches that make the day even more remarkable. Your guests will appreciate the thoughtfulness and sophistication behind this Spanish-inspired creation. So, raise a glass and toast to love, warmth, and a beautiful winter wedding day!