Rose gold wedding ideas may be incorporated into your special day in a variety of ways. Rose quartz was chosen as the Pantone color of the year for 2016, and as a result, rose gold gained popularity. The color has an unassuming beauty and is a timeless, delicate shade. Its versatility and feminine vibe have made it the preferred color for weddings to date.
Rose Gold Wedding Ceremony Decor
Rose gold ideas for a ceremony are quite easy to implement. Get rose gold flower pots or vases and fill them with flowers. Place them down the aisle as markers. Dress the arch in rose gold balloons or flowers. Juxtapose with the wedding rose gold by adding mauve-toned arrangements of pampas grass, roses, and eucalyptus to give a dessert and traditional vibe.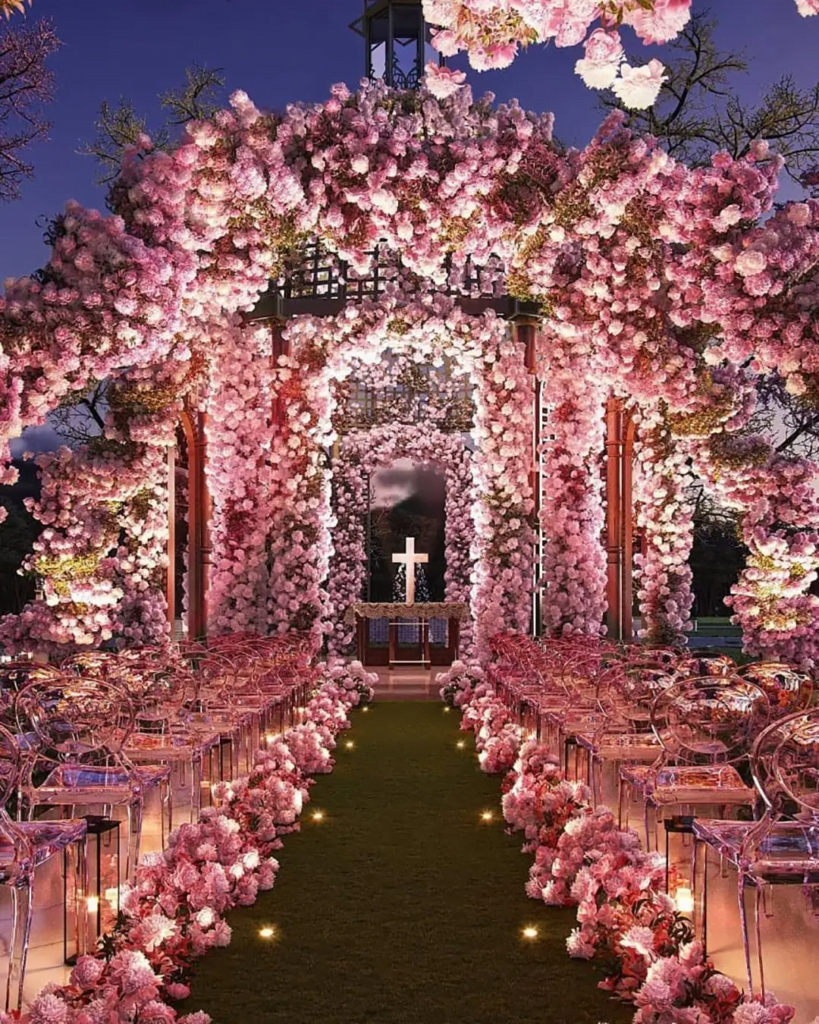 Centerpieces And Runners
Make a bold statement with your wedding rose gold centerpieces and runners. Create floral centerpieces and runners around the table using varying heights of rose gold flower vases and mason jars, or antler figurines and pheasant feathers for a mountain touch. Set up runners with velvet, and throw in blush garden roses, hydrangea, and burgundy chocolate scabiosa for a rose gold hue tablescape.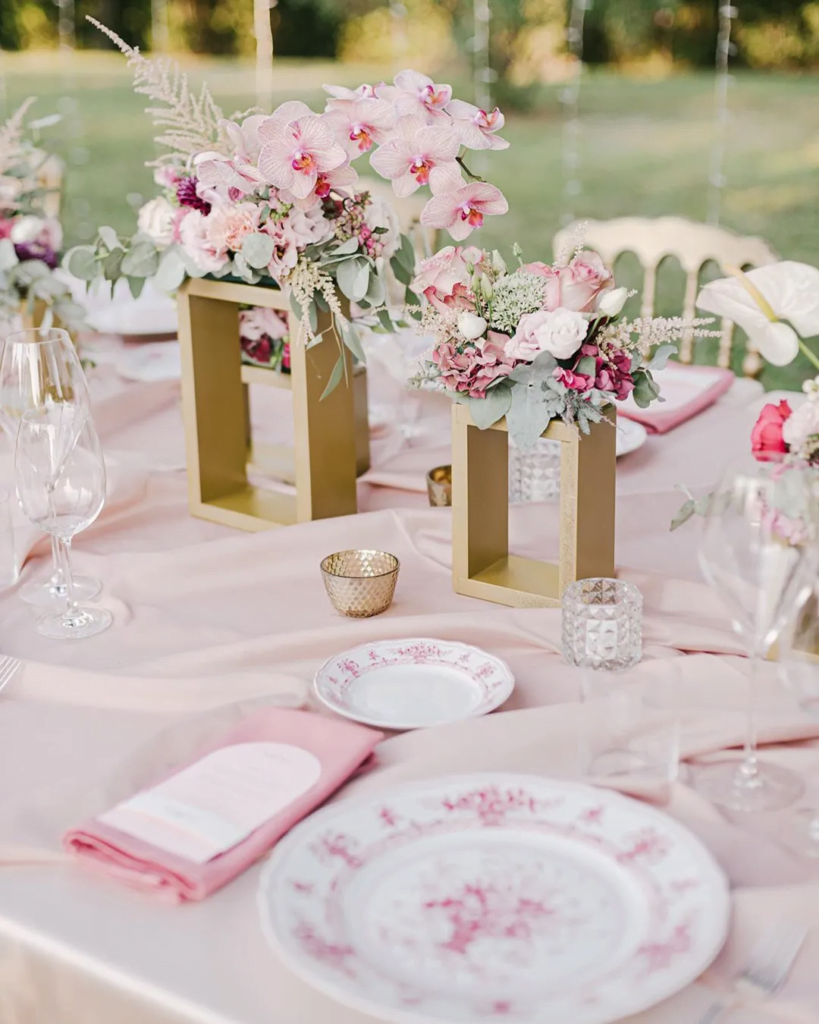 Table Setting Ideas
Incorporate rose gold decor in your table settings. Combine golden flatware and mercury glass chandeliers for a lush glow. Opt for tented escort cards sealed with gold wax and hung on a custom wreath. Place them on tables covered in silk among votives. For a lustrous and regal look, opt for metallic gold napkins on a glitter table with sequin clothes.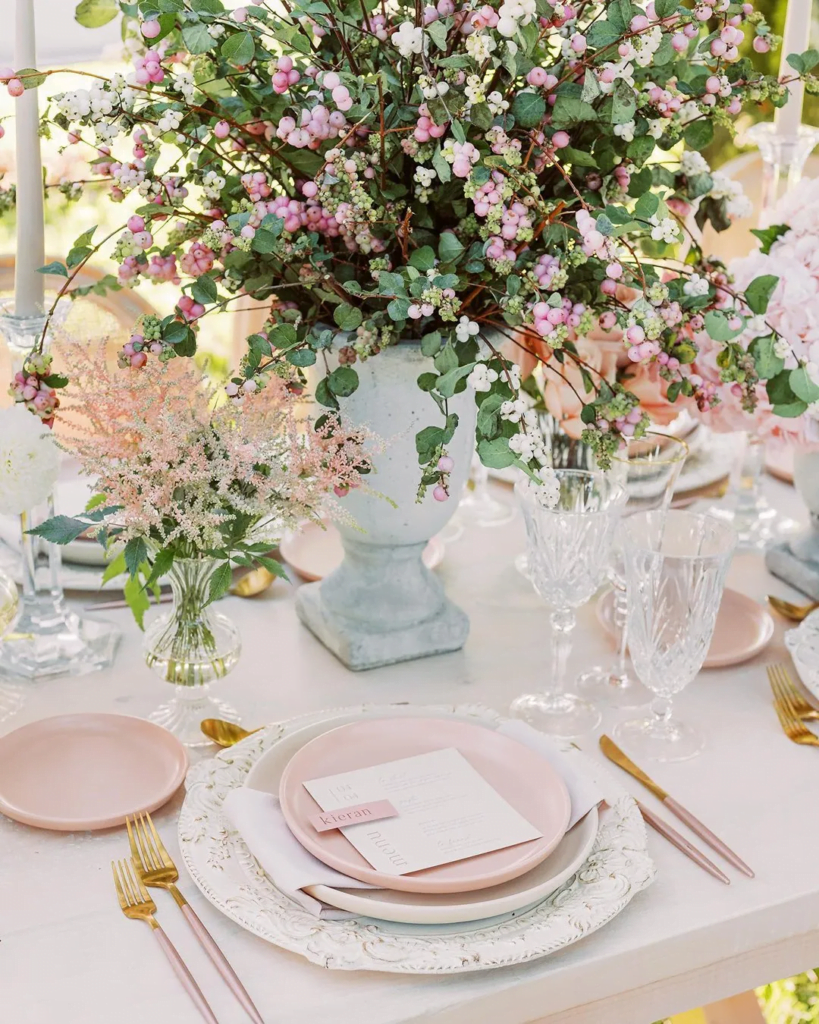 Seating Plan
Use metallic, acrylic, Lucite, or wood for your rose gold theme wedding seating plan. They individually give off contemporary, modern, vintage, and rustic looks. Adorn them with beautifully sketched calligraphy that blends with your wedding flowers, stationery, and other accents. Border them with flowers or drape them in fabrics, as they are great additions to your venue décor.
Rose Gold Decorations With Flowers
Create floral wedding decorations by planting mauve-toned pampas grass alongside pink roses down the aisle. They can also double as huge centerpieces. Build a wall of roses and dahlias or display them on a boxwood hedge that is accented by lanterns for centerpieces. Create an overhead hanging floral installation with pink and white blooms for a classic look.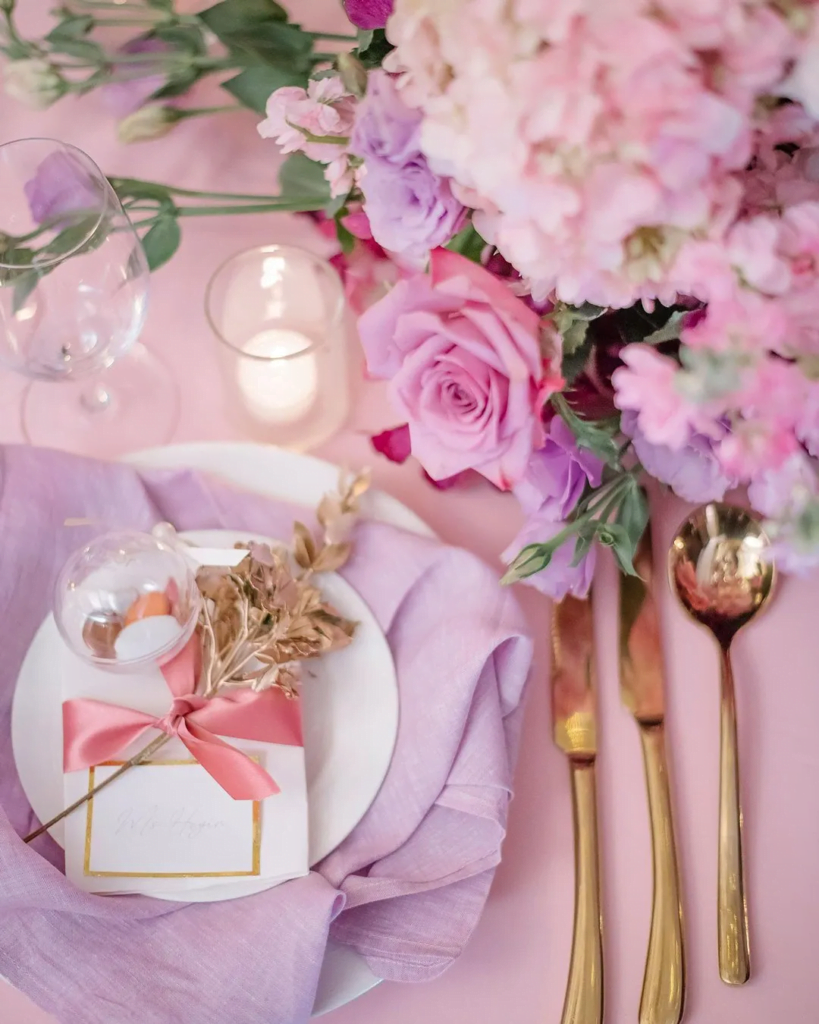 Rose gold wedding ideas are perfect for the romantic couple that values lush appeal and timeless elegance. If this is you, use the rose gold wedding theme ideas that we have put together as a guide. They are easy to pull off because rose gold wedding supplies are easy to find, plus the affordability. Celebrate a day to remember with these wedding decor inspirations.