Convertible bridesmaid dresses are one of the most popular choices and will be always loved by bridesmaids. The advantages of infinity dresses are that they can be worn in a variety of ways and moreover look cohesive. Convertible dresses are comfortable and suitable for all sizes and body types and each bridesmaid is able to show their personality. Find out the most popular brand for multi-wear bridesmaid dresses.
Draped On One Shoulder
This is one of the most beautiful and effortless methods to don a convertible dress. It skillfully achieves a graceful asymmetry by creating the appearance of a long sleeve on one side.
To begin, drape both straps over each shoulder. Next, pull one strap diagonally across your body, aligning them on the same side.
To ensure a secure fit, give the straps a twist or two. Then, elegantly wrap the remaining fabric around your waist. Tie it at the front, side, back, or in any manner that brings you the utmost comfort!
One Shoulder Twist
At the apex of your shoulder, intertwine the straps, creating an enchanting braided pattern that cascades down to the back of your waist.
To complete the look, delicately wrap the straps around the front and securely fasten the excess fabric with a knot or a charming bow on the side.
X-Back Cross
The beauty of X-back cross convertible bridesmaid dresses lies in their adaptability. Beyond the initial cross at the back and front, the options are abundant.
To wear them, start by crossing the straps at the back and bring them to the front, crossing them again.
With careful adjustments and secure tying, these dresses guarantee a flawless and personalized style for each bridesmaid, ensuring a picture-perfect bridal party ensemble.
Front Halter Neckline
The halter style is a fail-proof option for sure! Ladies, if you're longing to embrace this chic look, start by draping one strap over each shoulder. Then, gracefully cross each strap over the opposite shoulder, creating a stylish twist at the front.
To add texture, you can either twist the straps or let them hang gracefully. There are two charming options for securing them: tie them at the back of your neck or elegantly crisscross them around your waist, culminating in a stunning bow at the waistband.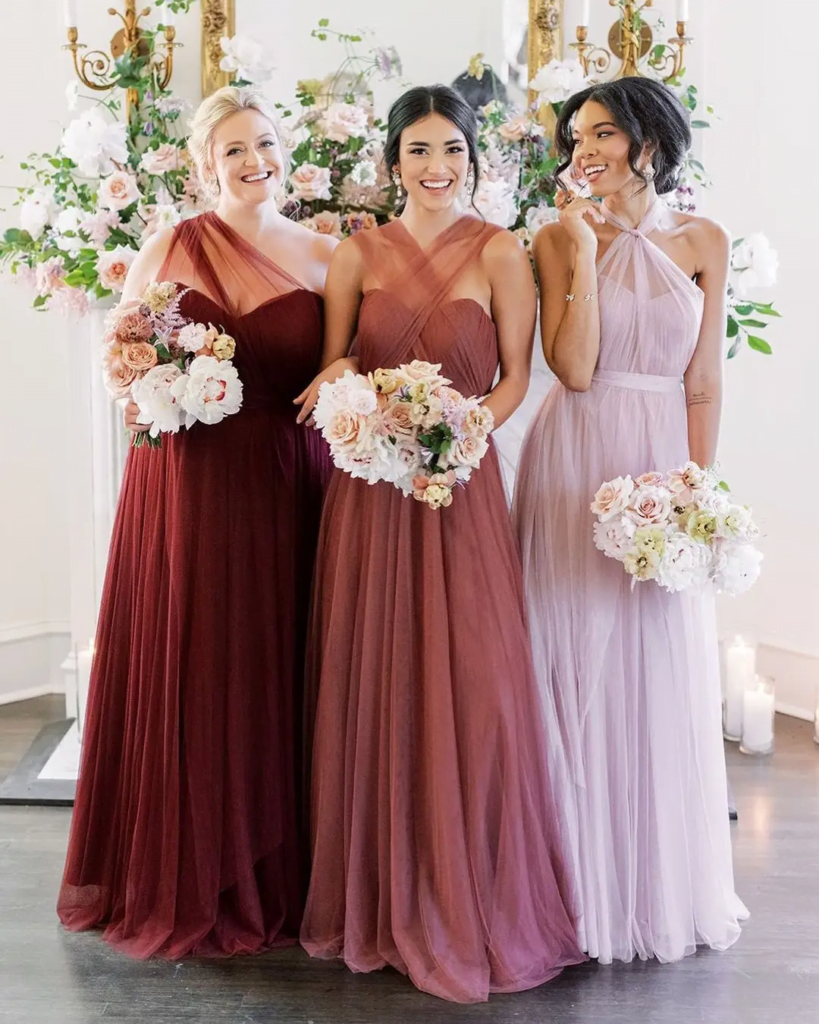 Buckle Waist
Introducing an exquisite twist on the sleeveless silhouette that flawlessly accentuates your waist!
Commence by elegantly placing one strap over each shoulder. Cross them gracefully at the back before proceeding to crisscross them twice at the front. As you accomplish the second crossing, a mesmerizing chain link pattern emerges, evoking a chic buckle effect.
Embrace the straps around the back, meticulously wrap them, and finalize the ensemble by securely tying them together. Witness the transformation as the look reaches its breathtaking culmination.