For a subtle yet dazzling look, consider incorporating glitter into your roots. This hairstyle works well with updos, half-up, and half-down styles, or even when wearing your hair down. The glitter can be matched to your wedding colors or your personal preferences. Braids have been a timeless bridal trend, and adding glitter elevates this classic style to a whole new level. Whether you choose a fishtail braid, a milkmaid braid, or a boho-inspired messy braid, adding a touch of glitter to the strands can give your hairstyle a whimsical, ethereal feel.
Glitter Open Hairstyles
Create enchanting waves in your hair and add subtle glitter to them for a dreamy and romantic look. These waves can be achieved using a curling wand or hot rollers. After styling your hair into waves, sprinkle some fine cosmetic-grade glitter onto your locks for a touch of magic. Make sure the glitter complements the color scheme of your outfit.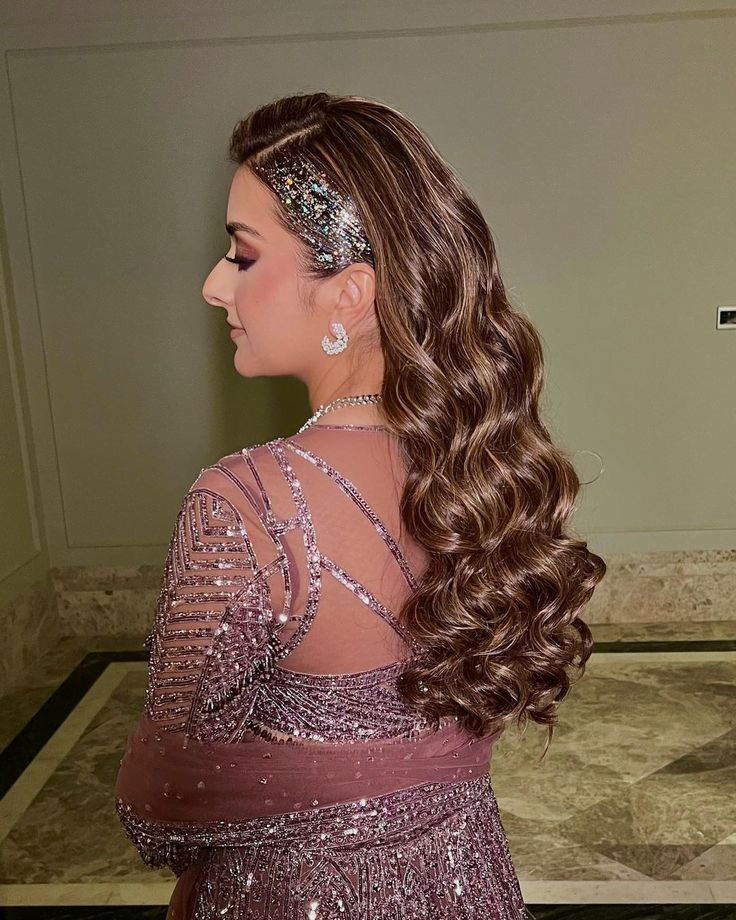 Braids are a classic choice for Indian brides, but you can elevate the look by adding glitter. Create a loose, side-swept braid and adorn it with glittering hairpins or small rhinestones. This style adds a touch of elegance and a modern twist to the traditional bridal braid. Braids are a popular choice for brides, and adding glitter to your braided hairstyle takes it to a whole new level. Create a braided crown around your head and secure it with bobby pins. Sprinkle a fine, biodegradable glitter in the same color as your wedding theme to make your crown sparkle.
Glitter Ponytail Hairstyles
Indian brides have long embraced traditional hairstyles like braids and buns. However, in recent years, there has been a surge in modern and innovative bridal hairstyles. One of the most captivating and trendy options is the glitter ponytail. This style infuses a touch of glamour into the traditional bridal look, and it's perfect for brides who want to make a statement on their big day. In this blog post, we'll guide you through the process of achieving a stunning glitter ponytail hairstyle for Indian brides.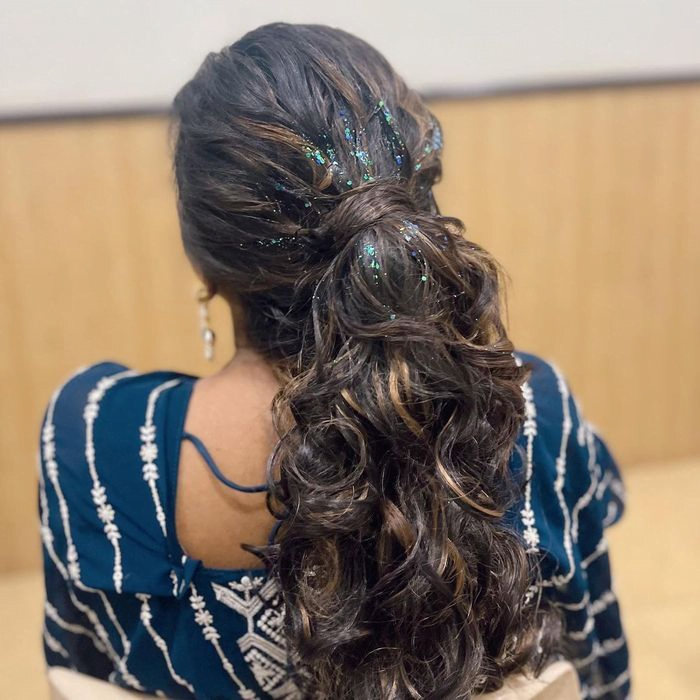 Before diving into creating the glittery ponytail, ensure your hair is properly prepared. This includes washing and conditioning your hair and applying any necessary hair products for added shine and volume. Make sure your hair is completely dry before proceeding. The glitter ponytail is a versatile and stylish choice for Indian brides looking to add a touch of sparkle and individuality to their wedding hairstyle. Whether you prefer a classic or a more unconventional look, there's a glitter ponytail style for every bride. Experiment with these ideas, and with the right accessories, you can create a dazzling and memorable bridal hairstyle that complements your overall wedding look beautifully.
Glitter Bun Hairstyles
The classic glitter bun is a timeless favorite. Start with a high or low bun, secure it with a hair tie, and then apply some hair gel or mousse to keep your hair in place. Now, here comes the fun part – sprinkle some biodegradable cosmetic glitter over your bun and use a hair spray to set it. You'll have a dazzling and sophisticated look that's perfect for formal events.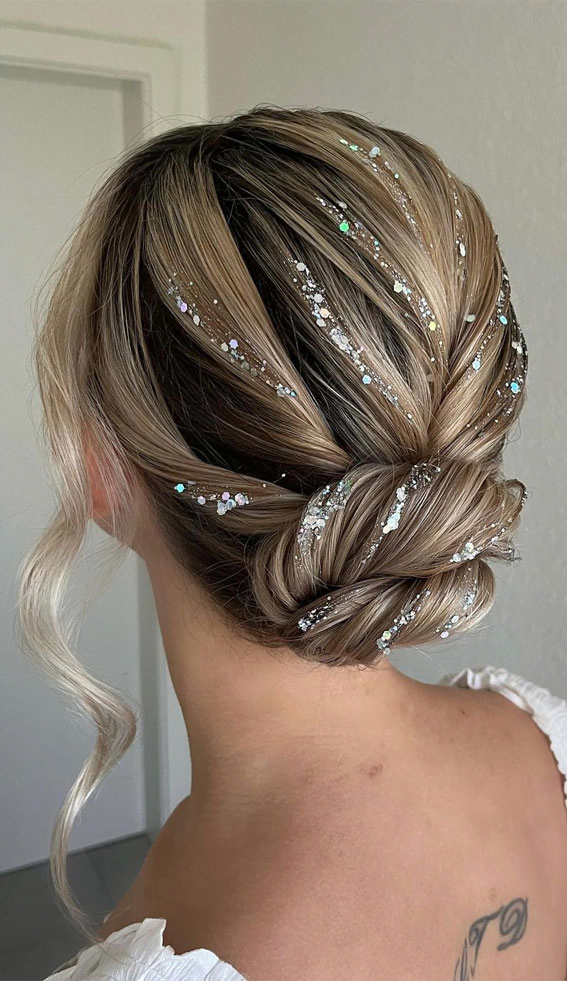 Elevate your glitter bun with floral accessories. After creating your chosen bun style, add artificial flowers or floral pins to the bun for a fresh and enchanting look. This is a wonderful choice for weddings and other romantic events. Glitter bun hairstyles offer a world of possibilities to make your hair shine and stand out. Whether you're going for a glamorous, casual, or whimsical look, there's a glitter bun style for every occasion. So, don't be afraid to add a little sparkle to your life and turn heads wherever you go with these stunning glitter bun hairstyles!