Pumpkin spice is a quintessential fall flavor. Pair a spiced pumpkin cake with layers of creamy, tangy cream cheese frosting for a delicious combination. You can also add a dash of cinnamon and nutmeg for extra warmth. Fresh apples and cinnamon create a comforting and classic fall flavor. Consider layers of moist apple cake with a cinnamon-infused buttercream or cream cheese frosting. You can also add small pieces of apple for texture.
Tier Tall Wedding Cakes
As the leaves begin to paint the landscape in warm shades of red, orange, and gold, there's no denying that fall is a romantic and enchanting season to tie the knot. Whether you're planning a rustic barn wedding, a chic urban affair, or an intimate garden ceremony, a tiered fall wedding cake is the perfect way to add a touch of seasonal charm to your celebration.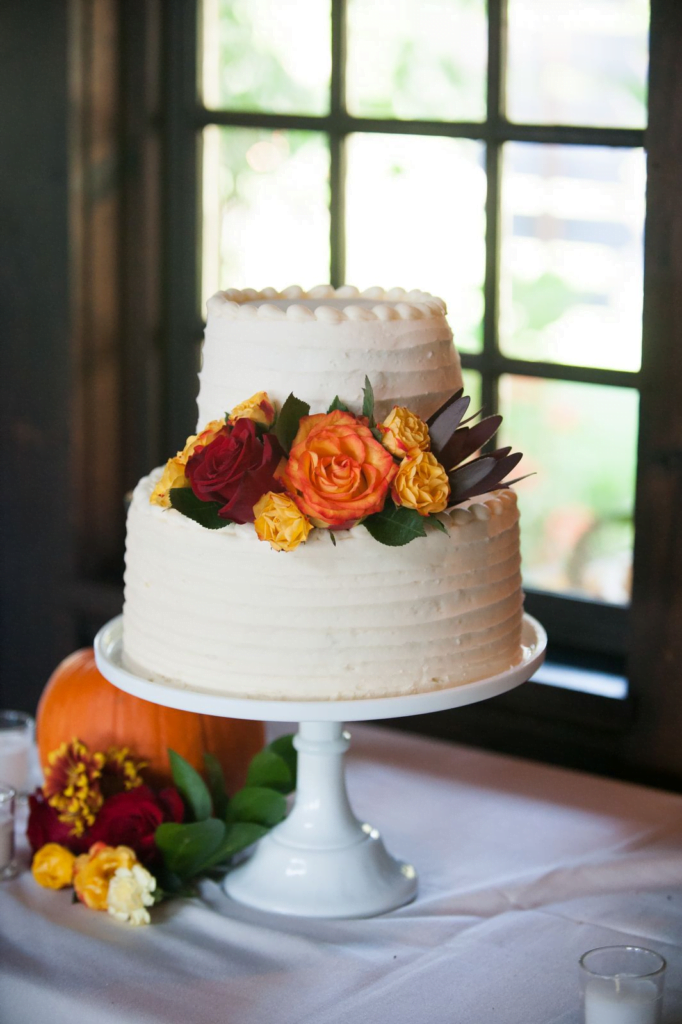 Your wedding cake is not just a sweet treat; it's a work of art that can beautifully symbolize your love and the season in which you celebrate it. With the right flavors, designs, and seasonal accents, a tiered fall wedding cake can be the centerpiece of your autumn nuptials, leaving a lasting impression on your guests. So, as you plan your fall wedding, don't forget to savor every bite of your delicious, elegant slice of autumn bliss.
Elegant Wedding Cake Ideas With Flowers
When it comes to timeless elegance, you can't go wrong with a classic tiered wedding cake adorned with a cascading arrangement of roses. This design is perfect for a traditional wedding and can be customized to match your color scheme. For a more rustic and romantic vibe, consider decorating your cake with wildflowers like daisies, lavender, and baby's breath. These delicate blooms add a touch of whimsy and charm to your cake while maintaining a relaxed atmosphere.
Succulents are the perfect choice for a bohemian-inspired wedding cake. Their unique shapes and colors can create a stunning contrast against the white icing. Plus, succulents are hardy and long-lasting, making them an excellent choice for decorating your cake in advance. To infuse a touch of vintage charm into your wedding, opt for edible flower toppers. Delicate pansies, violets, or even crystallized edible flowers can be artfully arranged on your cake's tiers to create a nostalgic and whimsical feel.
Small Fall Wedding Cakes
A small fall wedding offers an opportunity to embrace the coziness and intimacy of the season. Your wedding cake can be a beautiful reflection of this sentiment, combining fall flavors, rustic elegance, and seasonal decorations to create a sweet centerpiece for your special day. Whether you opt for a single-tier cake or a miniature dessert table, the possibilities are endless when it comes to creating a memorable and delectable wedding cake for your intimate fall celebration.
For a fall wedding cake that exudes rustic charm, opt for a design that incorporates natural elements like wood, twine, and fresh flowers. Consider a naked cake adorned with deep red and orange blooms, or go for a semi-naked cake with a caramel drizzle for a warm and inviting look. Embrace the flavors of the season by choosing a cake that features classic fall ingredients. Spiced apple, pumpkin, or rich chocolate paired with caramel or cream cheese frosting can make for a delectable and seasonally appropriate dessert.
Tall Wedding Cake Ideas With Golden Touch
A classic wedding cake design with tiers of smooth, white fondant and intricate gold accents is always a timeless choice. Consider incorporating golden sugar flowers, delicate lace patterns, or edible gold leaf for a touch of sophistication. This design works well with any wedding theme and color palette. For a modern and glamorous twist, opt for a metallic gold wedding cake. You can have a tall cake covered in metallic gold fondant or adorned with edible metallic gold paint. Pair it with minimalist decor for a chic and contemporary look.
If you're going for a vintage or rustic theme, consider a tall, buttercream-frosted cake with golden details. Think about incorporating golden piped lace, ornate brooches, or vintage-inspired floral patterns. This style will add a touch of nostalgia and romance to your wedding. An ombre cake that transitions from white to gold can create a stunning visual effect. Whether you choose to have a smooth gradient or a textured ombre, this design can be a showstopper. It's a perfect way to incorporate both your wedding colors and the golden touch.
Rustic Fall Wedding Cakes With Fruits
As the leaves turn brilliant shades of red, orange, and yellow, and the air becomes crisp and cool, autumn provides a picturesque backdrop for weddings. If you're planning a rustic fall wedding, one of the most delightful ways to embrace the season's beauty is through your wedding cake. Incorporating seasonal fruits into your cake design can add a delicious and visually appealing touch that perfectly complements the rustic aesthetic.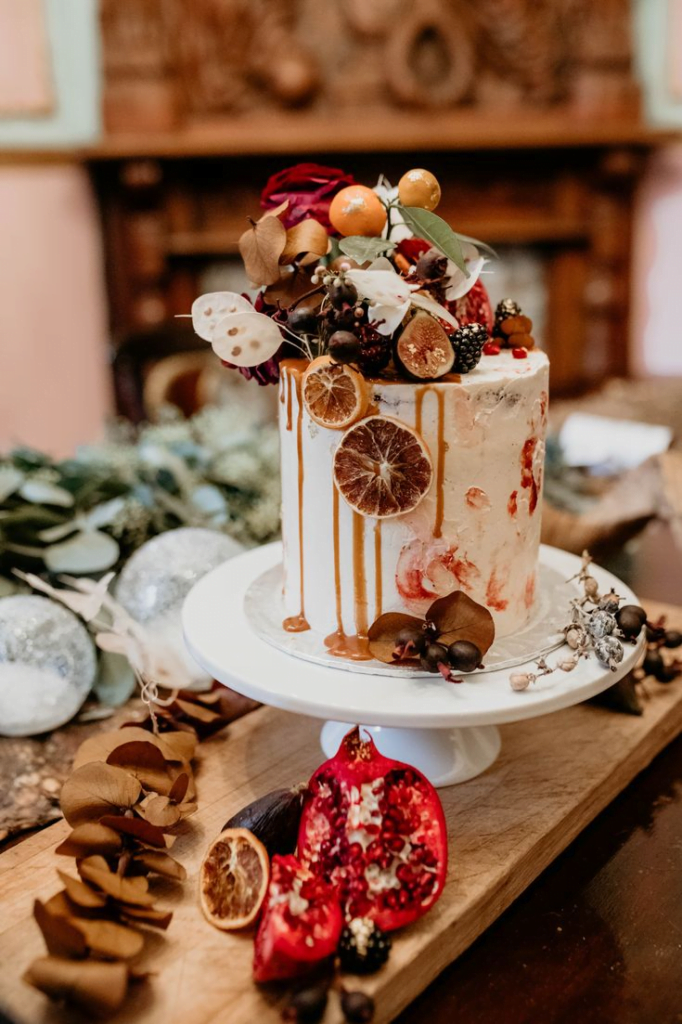 For a classic rustic look, consider an apple-inspired wedding cake. Apples symbolize love and fertility, making them a meaningful choice for your big day. A tiered cake adorned with sliced apples, apple-shaped cake toppers, or even apple-flavored layers can be a sweet tribute to the fall season. Ripe and succulent berries like cranberries, blackberries, and raspberries are in abundance during the fall. These jewel-toned fruits can be artfully arranged as a cake garnish, providing a pop of color and a burst of flavor that harmonizes with the fall atmosphere.